Lacalle welcomed at White House by President Biden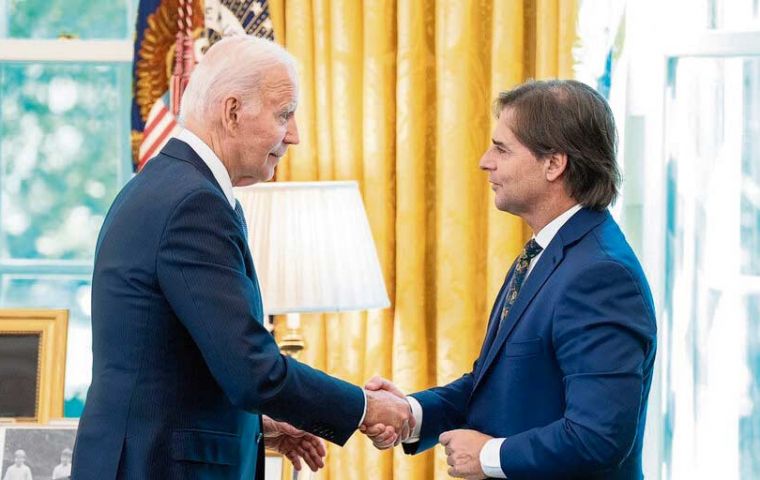 Uruguayan President Luis Lacalle Pou Tuesday met at the White House with his US colleague Joseph Biden, who "applauded" the South American leader's stance on the Ukraine crisis, his defense of fundamental principles in Venezuela, and for his commitment to regional economic integration.
Lacalle Pou was in the United States to receive an award from the Americas Society Forum, the organization founded by David Rockefeller.
According to Washington DC media reports, the meeting between the two heads of state was not scheduled in advance and was arranged at Biden's request after learning that Lacalle was in the country.
The White House said in a statement that Lacalle was praised for "ensuring that the Partnership for Economic Prosperity in the Americas accelerates regional integration, inclusive economic prosperity, and greater opportunity through sustainable trade and investment."
Both presidents also discussed the bilateral economic relationship, the efforts to combat climate change, and the strengthening of cooperation in security matters.
The meeting lasted about an hour and was also attended by the Uruguayan Foreign Minister, Francisco Bustillo, and Uruguay's Ambassador in Washington, Andrés Augusto Durán Hareau.
The White House was represented by the Deputy National Security Advisor, Jonathan Finer, and Biden's main advisor for Latin America, Juan González.
After the meeting, Lacalle Pou, Bustillo, and Durán flew to New York City where Lacalle would receive the Gold Insigne of the Americas Forum Society Tuesday night. Lacalle's entourage also includes Presidential Secretary Álvaro Delgado and Industry Minister Omar Paganini.
The meeting was to take place last year during the Summit of the Americas but was canceled because Lacalle Pou was unable to travel due to a coronavirus infection.
Also on Monday three US senators, members of the two major political parties, proposed reducing some tariffs on Uruguayan exports and allowing Uruguayan businessmen and investors access to preferential visas in a bill "to Strengthen the U.S.-Uruguay Economic Partnership", according to a press release from the US Foreign Relations Committee. If approved, Uruguay would be among the countries benefiting from the Caribbean Basin Economic Recovery Act, which benefits nations with different tariff reductions, and would enter the "Visa Waiver Program", with visas that benefit traders and investors.