Mercosur leaders show support to Massa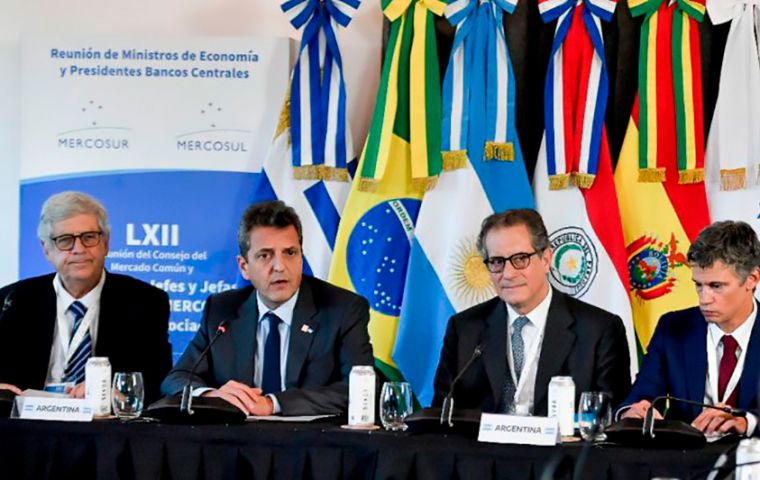 Presidents Luis Lacalle Pou of Uruguay, Luis Arce Catacora of Bolivia, Mario Abdo Benítez of Paraguay, Luiz Inácio Lula da Silva of Brazil, and Paraguay's President-elect Santiago Peña Tuesday showed strong support to Argentine Economy Minister Sergio Massa, a likely candidate to become President comes Dec. 10, on the sidelines of the 62nd Mercosur Summit in Puerto Iguazú.
Lula even invited Massa to visit Brazil as a presidential candidate and discussed Brazil's National Bank for Economic and Social Development (BNDES) agreement to finance exports to Argentina, as well as the latest developments regarding the Néstor Kirchner Gas Pipeline.
Peña and Massa also reviewed the Paraná River waterway, Yacyretá, and other binational power plants. He also invited Massa over to Asunción next week.
Massa has been in Puerto Iguazú since Monday afternoon to chair the meeting of Mercosur Economy Ministers and Central Bank CEOs where the coordination of local currencies in Mercosur's trade was analyzed.
Lula's talk with Massa was quick, but long enough to review the main topics concerning relations between the two countries, it was reported. Lula has long defended that Brazil should finance works abroad as a way to guarantee exports and profits for Brazilian companies and industries in the face of China's advance.
The encounter also took place amidst ongoing negotiations for Argentina to join BRICS, the bloc formed by Brazil, Russia, India, China, and South Africa. Brazilian Secretary for Latin America and the Caribbean, Ambassador Gisela Padovan, said Tuesday that the Itamaraty Palace was on Argentina's application.
To try to include Argentina in the BRICs, Brazil counts on former president Dilma Rousseff, who was recently sworn in as president of the New Development Bank (NDB), the so-called BRICs Bank, precisely because of Lula's recommendation, it was also explained.