Pope Francis holds meeting with Bill Clinton and Soros' son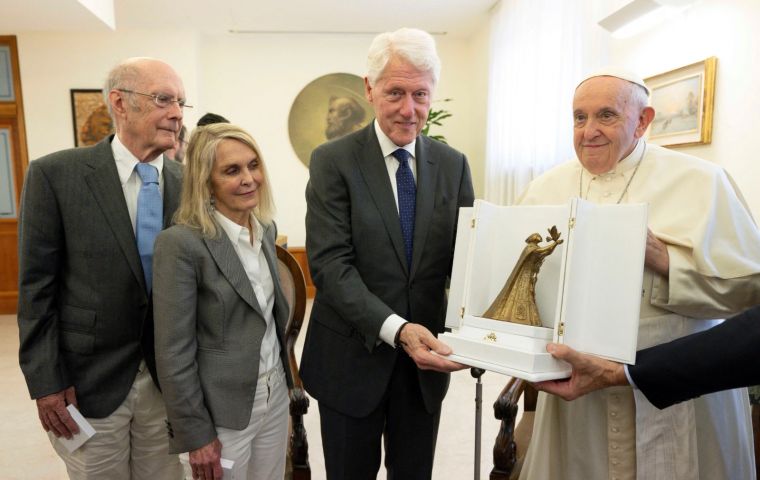 Argentine-born Pope Francis Wednesday welcomed former US President Bill Clinton at his Casa Santa Marta residence. "Thank you very much for visiting me," the former Archbishop of Buenos Aires said in English as he walked with help from a cane due to his knee problems.
The Pope gave Clinton a statuette representing "our work that makes peace" and Clinton gave the pontiff a personalized porcelain tray bearing the presidential seal. The former president also wrote a personal note.
Clinton is in Rome for two days. He could be seen in a restaurant dining on a plate of typical pasta. He had already visited the Vatican in 1994, while in office to participate in an audience with then-Pope John Paul II. This time around, his delegation to the Vatican included several prominent Americans, including Alex Soros, son of billionaire George Soros, who is the new chairman of the Open Society Foundations.
The Holy See Press Office in a July 5 email described the gathering as a "private audience" with President Bill Clinton and his delegation.
Open Society Foundations and its aligned groups have funded efforts to legalize abortion in Ireland, Poland, Mexico, and other traditionally Catholic countries. The Soros network has also funded efforts to change the political priorities of American Catholics and to pass strongly pro-abortion legislation, such as a Michigan ballot measure to declare abortion a constitutional right. The Open Society Foundations give more than $1.5 billion a year to human rights and democracy advocates, among other causes in the US and around the world. But on June 30 it announced it will lay off 40% of its approximately 800 employees.