Solution to Venezuelan crisis sought in Brussels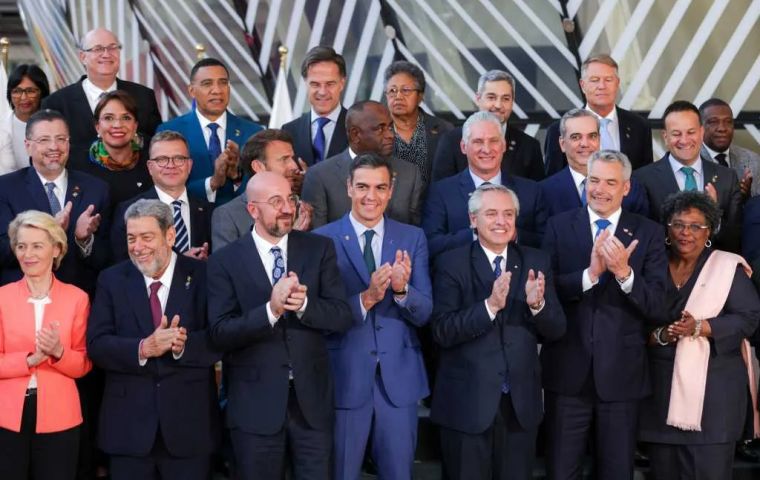 Presidents Alberto Fernández of Argentina, Luiz Inácio Lula da Silva of Brazil, Gustavo Petro of Colombia, and Emmanuel Macron of France Monday got together in Brussels on the sides of the EU-Celac Summit with Venezuelan Vice President Delcy Rodríguez and opposition leader Gerardo Blyde in a multilateral effort to find a solution to the political crisis in the Bolivarian country. Also participating in the gathering was the EU's top diplomat Josep Borrell.
Argentine diplomatic sources said the leaders talked about the importance of releasing sanctions to Venezuela, for which the United States needs to be at the table. The banks that have Venezuelan funds held in Europe face US sanctions if they act unilaterally.
Macron's interest in resolving the conflict has, in addition to economic motives, "a feeling of guilt from a political point of view, for having supported Juan Guaidó at the time, something they believed was the solution," the sources quoted by Ámbito also said.
Last week Venezuelan Parliament Speaker Jorge Rodríguez ruled out that the EU would send an observation mission for the next presidential elections in 2024, as it did in 2021 for regional and municipal elections, the first since 2006.
The European bloc highlighted recent advances but criticized "the arbitrary disqualification of candidates" and expressed earlier this month "concern" for the disenfranchisement of leader María Corina Machado.
"Machado has an administrative disqualification and it can be solved if Venezuela goes to the Inter-American System of Human Rights, which has a Court of Appeals to appeal to, and with a precautionary measure, everything would go back to the beginning," Ámbito's source said. Blyde Pérez agreed with this idea and Delcy Rodríguez answered that "they will think about it".
It was the second such meeting after the one held last Nov. 11 at the Paris Peace Forum, although this time around Lula joined in. On that occasion, the Bolivarian Republic of Venezuela agreed to return to political dialogue, after the support of Fernández, Macron, and Petro, in a meeting that the presidents held with representatives of the government and the opposition of the Caribbean nation in Paris.
Last May 30, Fernández held a bilateral meeting with his Venezuelan counterpart, Nicolás Maduro, within the framework of the Meeting of Presidents of South American countries held at the Itamaraty Palace in Brasilia, the capital of Brazil, and asked him for that country to return to international organizations and forums, mainly the Inter-American Commission on Human Rights (IACHR).
On April 25, an International Conference to promote dialogue between representatives of civil society, the opposition, and the Venezuelan government was held in Colombia, at Petro's invitation, to reopen paths and build a road map to stimulate and support dialogue. In addition to Argentina -represented by Foreign Minister Santiago Cafiero-, Barbados, Bolivia, Brazil, Canada, Chile, France, Germany, Honduras, Italy, Mexico, Norway, Portugal, Saint Vincent and the Grenadines, South Africa, Spain, Turkey, United Kingdom, United States, United States, and Borrell participated in this meeting, where the United States agreed to "move forward in parallel, remove sanctions and observe the elections." (Source: Ámbito)