No majority achieved after Spain's snap elections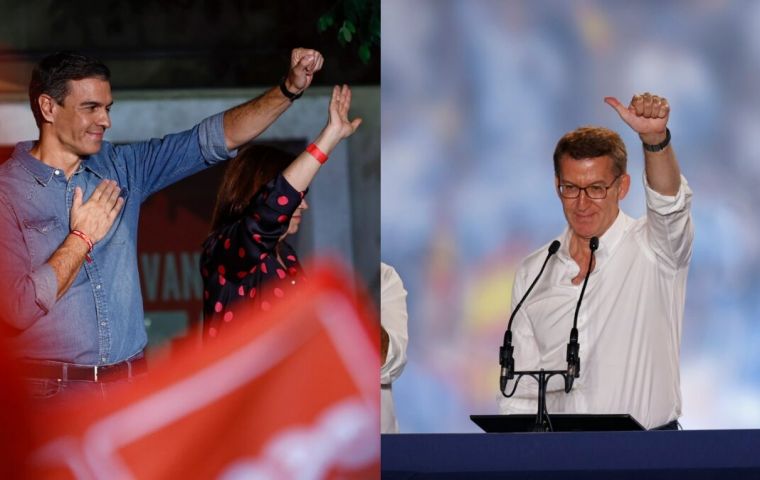 Spain's conservative opposition Popular Party (PP) won Sunday's general elections but is short of votes to make Alberto Núñez Feijoó, even though an alliance with the far-right VOX movement, it was reported in Madrid after over 98% of the polling stations were counted.
Spain has a parliamentary form of government, so the party or alliance of parties that obtains a majority in Deputies, i.e. at least 176 seats, holds power. Generally, the party with the most votes is the first to have the opportunity to form a government. If it does not reach 176 seats, it may seek alliances. In the current scenario, Prime Minister Pedro Sánchez might still remain in office through another progressive coalition after his Spanish Socialist Workers Party (PSOE) finished second.
The PP obtained 136 of the 350 seats in Congress, followed by the PSOE, with 122. Vox finished with 33 seats, so a potential alliance between PP and VOOX would still fall below the absolute majority of 176, while Sumar, the main ally of the PSOE, obtained 31 seats.
The Spanish electoral system is designed for a two-party logic, with alternation between the PSOE and the PP, but, in the last decade, new political expressions have appeared, leading to a transition from bipartisanship to "bibloquism."
"My objective is not to reach an agreement with Vox", affirmed Núñez Feijóo, and emphasized, in response to a journalistic question about the anti-European stances raised by VOX's Santiago Abascal and his supporters, that "there is not a single coalition in the European Union whose prime minister governs with the support of parties that want to break the unity of the nation they represent."
"I want to point out what is bad news for many Spaniards: Pedro Sanchez, even losing the elections, can block an investiture, and, even worse, Pedro Sanchez could even be invested with the support of communism, pro-coup independence, and terrorism," Abascal warned.
Sunday's results mark an unprecedented growth of the PP, which had 89 seats in the current parliament, and on the side of the ruling PSOE a slight growth of two new seats, while Vox lost 19 seats.
Spain's state-owned RTVE estimated that the PSOE could garner 172 seats if, in addition to Sumar, it is supported, as expected, by Esquerra Republicana (ERC), which obtained seven seats; EH Bildu, which obtained six seats; Euzko Alderdi Jeltzalea - Partido Nacionalista Vasco (EAJ-PNV), with five seats, and Bloque Nacionalista Galego (BNG), with one seat. In that case, it would still fall below the required absolute majority.
In this regard, Catalan pro-independence party Junts' Miriam Nogueras warned that "We will not make Pedro Sánchez president in exchange for nothing." Junts' seven seats may prove vital for Sánchez to remain in office.
Turnout stood at 70.36%, it was reported. Almost 2.5 million people opted for postal voting, a record number. A total of 37.5 million citizens were eligible to vote.
Sanchez said he believed the right wing has failed and there are more who want Spain to move forward: "And it will continue to be so."
"There are many more of us who want Spain to continue moving forward than to follow the path of regression marked by the Popular Party with Vox. So Spain, Spaniards, comrades, we are more, many more of us who want Spain to move forward and so it will continue to be," he sttressed.
He explained that when he brought forward the elections a few weeks ago, after the regional and municipal elections, he believed that society had to decide which direction to take, either forward or backward. "The backward involutionist block that proposed a total repeal of all the advances we have achieved during the last four years has failed," he stressed.