Argentina pays the IMF with loan from Qatar
Saturday, August 5th 2023 - 10:31 UTC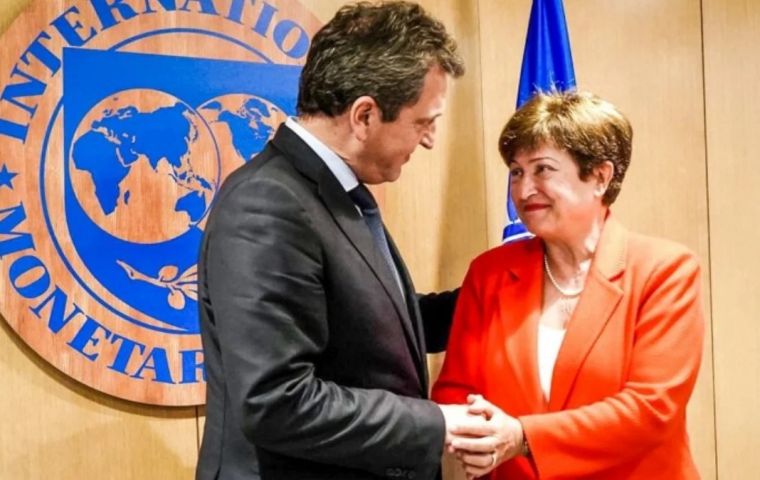 Argentine authorities Friday announced that they would be paying the International Monetary Fund (IMF) a maturity worth US$ 775 million through a 580 million Special Drawing Rights (SDRs) loan from Qatar. The Asian nation will lend Argentina Special Drawing Rights (SDR, money that countries reserve in the IMF), it was explained.
According to Argentine government sources quoted by Buenos Aires media, the deal was brokered by Economy Minister and presidential hopeful Sergio Massa, with Qatar's economic team "in absolute secrecy" in a move to avoid a new drain of dollars from its depleted international reserves. Qatar is to be paid back when the IMF makes the disbursement to Argentina, once the IMF board approves the 5th and 6th reviews later this month.
The loan with the IMF was taken by Argentina during Mauricio Macri's administration as a US$ 57 billion agreement. Upon taking office at the end of 2019, President Alberto Fernandez waived the outstanding disbursement tranches and renegotiated it in 2021 as an agreement for US$ 44 billion.
Last Monday, Argentina paid the Fund a US$ 2.7 billion maturity with yuan from a swap with China and a US$ 1 billion bridge loan from the Andean Development Corporation (CAF).
Argentina's international reserves include, in addition to dollars, a portion in gold and also other instruments such as yuans from the swap with China. An exchange control system has been in force since 2019 thus prompting various exchange rates in addition to the official one.
President Alberto Fernández said Friday that the payment to the IMF with Qatar's help will give "more tranquility," beyond "the fact that some are speculating and making noise in some markets." The head of state insisted that Argentina "wants to comply with the agreement it made at the time with the IMF, and the reality is that it is not easy." He also argued that "last year we exceeded the goals and grew the economy five and a half points, but this year with the drought, we received a very hard blow."
Fernández also highlighted 34 months of steady growth in the registered labor indexes and pointed out that "when we came to government we were concerned about two basic things: production and work" while between 2015 and 2019 "there were 46 consecutive months of falling registered employment."