Falklands Airbridge rerouted to East Midlands Airport, from August 12 to 26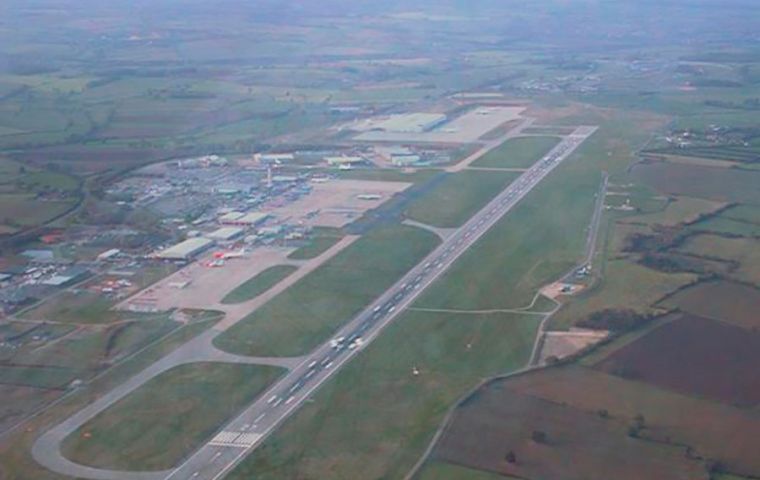 Due to essential repair work to the runway at RAF Brize Norton, the South Atlantic Airbridge connecting with the Falkland Islands will temporarily fly into, and out of East Midlands Airport (EMA). The final SAA flight into RAF Brize Norton prior to work commencing is scheduled to be the northbound service TOW 2233 due to depart MPC on Saturday 12 Aug. The following TOW 2230 service on Monday 14 Aug will depart from East Midlands Airport.
Service will return to normal with the Northbound flight on 26 Aug flying into RAF Brize Norton, all services between 14 and 25 Aug will be between East Midlands, Ascension Island and Mount Pleasant Airport.
Flight numbers will remain the same during this period, but the timings are different to the regular schedule and are detailed below:
TOW2230 Southbound ETD EMA Mon 14th and 21st Aug 20:00hrs, ETA MPC Tues 15th and 22nd Aug 14:30hrs
TOW2231 Northbound ETD MPC Wed 16th and 23rd Aug 09:30hrs, ETA EMA Thurs 17th and 24th Aug 09:00hrs
TOW2232 Southbound ETD EMA Thurs 17th and 24th Aug 20:00hrs, ETA MPC Fri 18th and 25th Aug 14:30hrs
TOW2233 Northbound ETD MPC Sat 19th Aug 09:30hrs, ETA EMA Sun 20th Aug 09:00hrs
TOW2233 Northbound ETD MPC Sat 26th Aug 09:30hrs, ETA BZZ Sun 27th Aug 08:30hrs
The TOW2230 service on Monday 28th Aug will follow the regular, established schedule.
Check in, and baggage reclaim will take place at East Midlands Airport, there are no plans for a shuttle service to or from RAF Brize Norton . Flight numbers will not appear on the departures/arrivals boards at EMA, but will instead be listed under "RRR". RAF Movements staff, in uniform, will be available at the terminal.
Passengers should refer to the MPC and Brize Norton RAF passenger information pages for any further updates.