Chile's Social Development Minister resigns amid scandal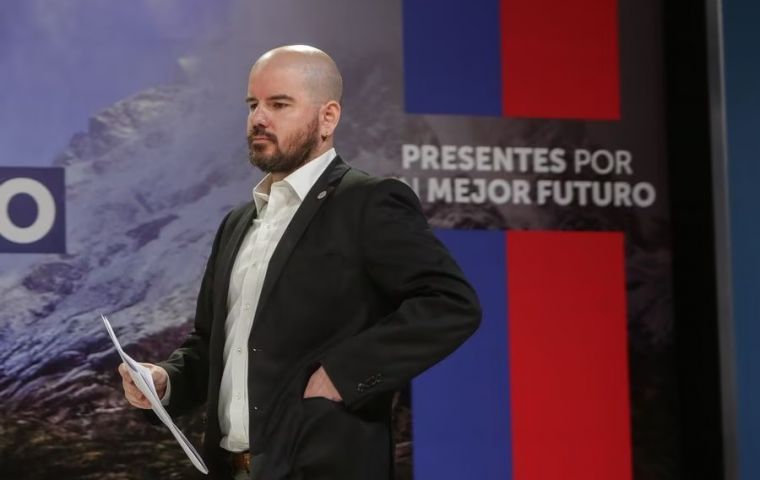 Giorgio Jackson, of President Gabriel Boric Fnt's Democratic Revolution (RD) party, Friday turned in his resignation as Social Development Minister following his involvement in a corruption scandal splashing several cabinet members and even the head of state, it was reported in Santiago.
"After holding a meeting with the President, I want to communicate that I have taken the decision to present my resignation in an indeclinable way," Jackson announced.
"I arrived at this conviction after reflecting a lot and realizing that Chile is tired of seeing us fight, of the existence of excuses to be able to advance in a pension reform, in the necessary reforms to have a care system, to be able to advance in the reduction of the waiting lists, of the security issues," he also argued amid a constitutional accusation against him from the Republican Party and Chile Vamos following the theft of over 20 computers and a safe from the Ministry's headquarters.
"My presence in the cabinet has been used by the political opposition as an excuse for not advancing in the agreements that Chile demands," he added.
"I hope that this resignation also contributes so that those people can see an agreement, that the political opposition sits at the table, and that we can reach the agreements that Chile needs. The government has already given important signs in terms of making its initial proposals more flexible and now, by the way, it is up to the opposition to also put in some of its harvest," the departing official went on.
Following Jackson's resignation, La Moneda sources said Undersecretary Paula Poblete would handle the ministry.
Jackson, known to be a close friend of Boric's, will still be summoned to testify in the corruption probe undertaken by the Public Prosecutor's Office for the alleged irregularities in the transfer of public subsidies to private foundations.
Boric's government also announced an internal audit to determine whether there were any irregularities in public subsidies during the current administration as well as under former President Sebastián Piñera. So far, four high-ranking officials have resigned, including former undersecretaries Tatiana Rojas (Housing) and Andrea Gutiérrez (Culture).