Paraguay: Peña ready to be sworn in as President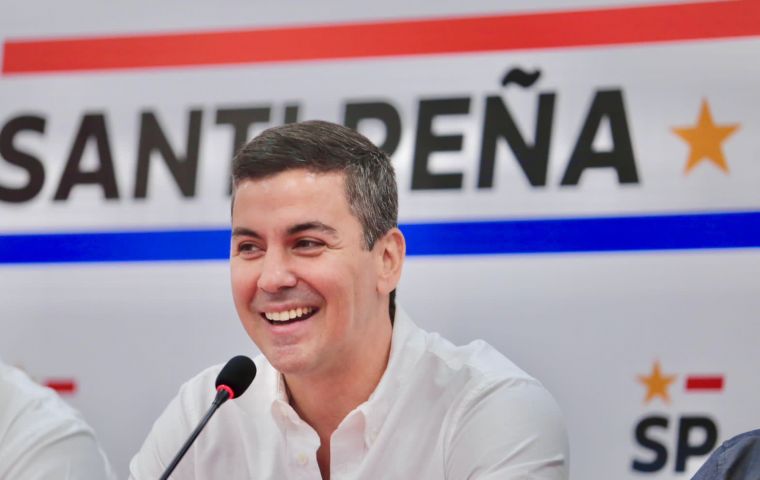 Economist Santiago Peña of the National Republican Assembly (ANR) also known as the Colorado Party is to be sworn in Tuesday as Paraguay's new head of state during a ceremony in Asunción which will be attended by several former and current Latin American leaders such as Argentina's Alberto Fernández; Brazil's Luiz Inácio Lula Da Silva and Uruguay's Luis Lacalle Pou, Chile's Gabriel Boric Font and Bolivia's Luis Arce Catacora.
Spain's King Felipe VI; St. Vincent and the Grenadines Prime Minister Ralph Gonsalves are also due in the Paraguayan capital, together with Vice Presidents Alfredo Borrego of Ecuador, Felix Ulloa of El Salvador, and William Lai Ching-Te of Taiwan.
Peña, who will have a majority in both houses of Congress and allies in 15 of the 17 provincial departments, will need to face a high poverty rate, in addition to the growth of drug trafficking gangs nationwide.
The new head of state, a follower of former President Horacio Cartes, under whom he served as finance minister, will also have to deal with a political force that remains together on the surface but is split inside between Cartesians and those who endorse the outgoing Mario Abdo Benítez. The Colorados have ruled in Paraguay for the past 70 years, except for a four-year hiatus.
A former International Monetary Fund (IMF) employee, the 44-year-old Peña has insisted that "We have to convince ourselves that Paraguay is a rich and powerful country" as Mercosur's efforts to reach a fully active trade deal with the European Union remain endlessly underway.
Meanwhile, the United States has declared Cartes as "significantly corrupt" together with outgoing Vice President Hugo Velázquez and their extradition request is never to be ruled out.
On Monday, the president-elect held an extensive series of meetings with visitors, including the heads of the IDB, Ilan Goldfajn, and the CAF, Sergio Díaz-Granados.
Peña, born in Asunción in 1978, became the father of a son at the age of 17 when he was already married to Leticia Ocampo. Just a year later he had a second daughter.
He graduated at the age of 23 from the Catholic University of Asunción and two years later he obtained a Master's degree in Public Administration from Columbia University in New York. By then he had already been an analyst for the Industrial Development Fund at the age of 21 and worked for the Paraguayan Central Bank.
In 2015, when President Cartes summoned him to become Finance Minister at age 37 and demanded that all officials in his administration be affiliated with the ruling party, Peña had to leave the ranks of the opposition Authentic Radical Liberal Party (PLRA). In 2018, Peña was defeated in the Colorado Party primaries by Abdo Benítez.
Peña is in favor of same-sex marriage and has spoken in favor of debating the right to abortion without prejudice.