The Grytviken Church in South Georgia will celebrate 110 years this Christmas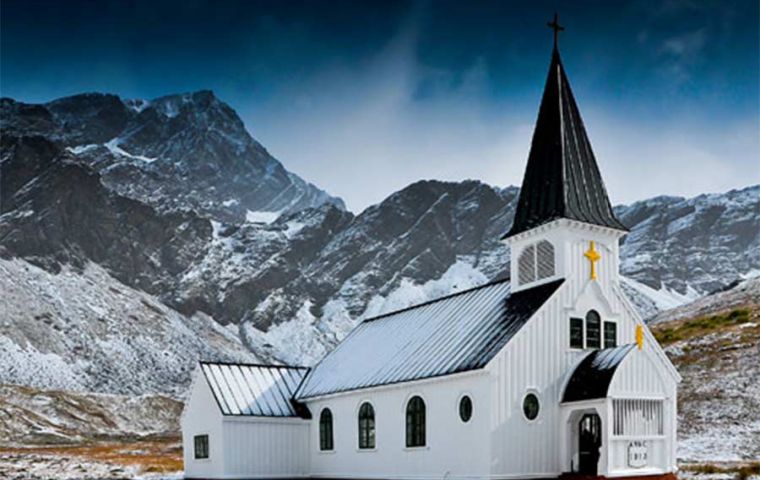 When the island of South Georgia was a booming whaling station, in the roaring forties, more than a century ago, Grytviken received what was to be the first church established in the Antarctic region. In effect the church was completed in 1913 just on time for the Christmas Day with the first ever ringing of bells occurring on Christmas Eve.
The church is a stunningly simple wooden building. It houses the original whalers' library and also a number of plaques and memorials relating to Sir Ernest Shackleton and others people, and busts of station founder Captain Carl Anton Larsen and of Shackleton.
The church is the only building at Grytviken that is still serving its original purpose. It undergone several restorations in recent years. The building is owned by the Government but managed by the museum team.
The building was planned by Larsen and designed by architect Adalbert Kielland, Larsen's son-in-law. It was prefabricated in Strømmen, Norway and then shipped to South Georgia. In 1913 it was erected by the station workers in their spare time. The church was consecrated on Christmas Day 1913, and the two church bells, cast in Tønsberg, were first rung at midnight on Christmas Eve.
The pastor, Kristen Loken, had arrived at Grytviken 18 months earlier as 'priest and lecturer'. He left in 1914 and three more ministers were in residence for short periods until 1931.
Løken wrote that "religious life does not wax strong amongst the whalers and left much to be desired".
The library in the north transept was popular but the church less so. At times it was used as a food store, cinema and concert hall. The church had to be cleared before Shackleton's coffin could lie there in state. Shackleton's funeral service was held in the church before the coffin was carried to the cemetery for burial.
The church is still used for services by locals and cruise ship passengers, particularly at Christmas.