Discovery of a new species of Antarctic strawberry feather, a 20 tentacle creature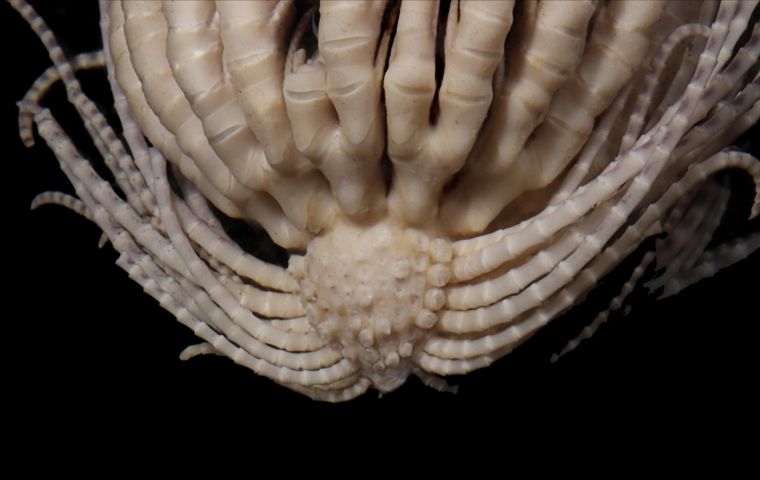 Researchers have discovered an otherworldly, 20-tentacled creature lurking in the freezing depths of the Antarctic Ocean. Resembling an alien or a Lovecraftian horror, the Antarctic strawberry feather star (Promachocrinus fragarius) is one of four new species of crinoids that scientists found at the bottom of the ocean, reports an article in Live Science.
Crinoids are a group of eerie, perfectly symmetrical creatures that include sea lilies and sea feathers. Sea lilies attach themselves to the ocean floor with a stalk, while sea feathers abandon their stalk upon reaching maturity to waft themselves through the sea with mesmerizing, synchronized swishes of their arms.
Prior to the discovery, there was thought to be only one species of Antarctic feather star, Promachocrinus kerguelensis. But the new research has revealed that at least eight species of the strange creatures live in the waters surrounding the southernmost continent, at depths ranging from about 330 to 3,300 feet (100 to 1,000 meters).
To discover the new animals, whose colors range from purple to dark red, researchers trawled a net across patches of the Southern Ocean to collect samples of the creatures. After performing a DNA analysis, the researchers classified the creatures into four new species.
Intrigued by their findings, the researchers then took a closer look at sea feather specimens that were captured between 2008 and 2017 and were presumed to be P. kerguelensis. Their efforts netted them a discovery of four more new species — bringing the total to eight.
The Antarctic strawberry feather star gets its name from the strawberry-like nub on its body, from which string like appendages called cirri protrude anchor the animal to the seafloor. When feather stars take flight, they spread their arms wide and paddle with rhythmic pulses, dancing through the water and capturing plankton with thousands of tiny, mucousy filaments along their arms.
Crinoids like these dominated the young seas of our planet, but they were largely wiped out — along with 95% of life on Earth — during the Permian mass extinction roughly 251 million years ago.
The researchers, Emily L. McLaughlin, Nerida G. Wilson and Greg W. Rouse from the Scripps Institute of Oceanography, University of California, San Diego, published their findings July 14 in the journal Invertebrate Systematics.