Peña and Massa hold meeting in Asunción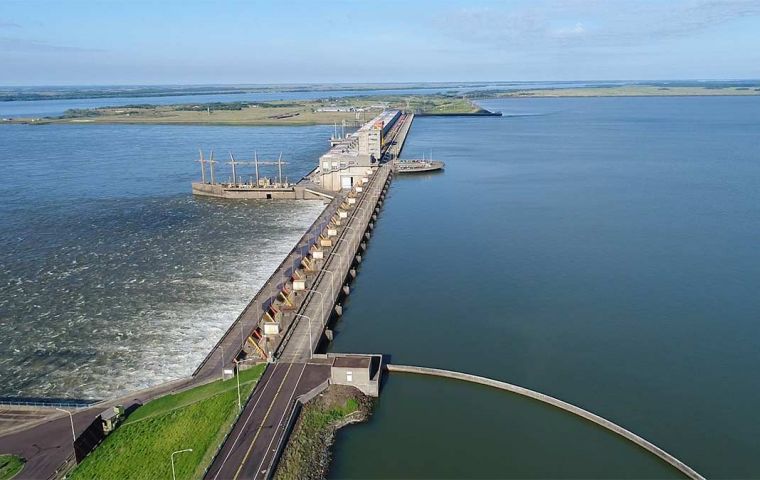 Paraguay's President Santiago Peña and Argentina's Economy Minister and presidential candidate Sergio Massa met in Asunción Thursday to discuss the Yacyretá hydroelectric dam and the Paraná River waterway, among other topics of bilateral interest.
On his way back from Washington DC after meetings with the International Monetary Fund (IMF), the Inter-American Development Bank (IDB), and the World Bank (WB), Massa made a stopover in the Paraguayan capital for talks with the newly-inaugurated head of state, who is also a former Finance Minister.
Joining Massa's entourage at noon at the Mburuvicha Roga presidential residence were Energy Secretary Flavia Royon, Transport Minister Diego Giuliano, and advisors Leonardo Madcur and Marco Lavagna. Alongside Peña was Economy Minister Carlos Fernández Valdovinos.
Topping the agenda was the matter of payments for hydroelectric energy generated in Yacyretá, the construction of the Aña Cuá dam, and of a border-crossing bridge linking the cities of Pilar (Paraguay) with Colonia Puerto Cano (Argentina), with financing from the Development Bank of Latin America (CAF).
The Aña Cuá dam has required an investment of US$ 350 million and is expected to be completed by 2025, while payments to Yacyretá have been halted pending the departure of Yacyretá Binational Entity (EBY) President and former Paraguayan head of state Nicanor Duarte Frutos, who belongs to the ruling Colorado Party but is at odds with the faction led by Horacio Cartes, who backs Peña.
"We talked about strategic issues for our nations such as the Yacyretá Hydroelectric Plant, the Waterway, the construction of new bridges between Paraguay and Argentina, and other important issues for development, trade, and integration between our countries," the Paraguayan president said through the social network X.
Massa also announced that an agreement had been reached to form a commission of ministers from countries in the region to discuss issues pertaining to the waterway within the next 60 days.
Paraguayan Foreign Minister, Rubén Ramírez Lezcano, announced that the Argentine government had agreed to suspend the collection of tolls on the Paraguay-Paraná waterway until a comprehensive proposal for the improvement of the entire waterway system is presented.
However, Giuliano insisted that the resolution establishing the collection of tolls was totally in force and that this situation would not change, according to Rosario3.
Later Thursday, Massa would address a Council of the Americas convention in Buenos Aires.