Emperor penguins in danger due to sea ice melting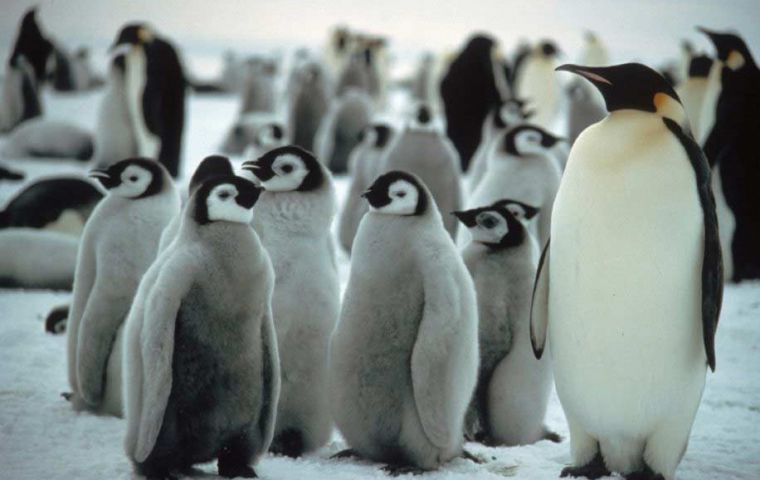 According to a peer-reviewed British Antarctic Survey report released late last week, the melting of sea ice might have caused the death of some 10,000 Emperor penguin chicks by the end of 2022.
The organization also expressed fears for the possible disappearance of the species as scientists project that over 90% of emperor penguin colonies will be quasi-extinct by the end of the century, based on current global warming trends which herald a longer-term decline in sea ice extent.
Primarily in the Bellingshausen Sea, at the southern tip of Antarctica, rising temperatures caused the ice where the penguins were breeding to fracture and disintegrate giving way under the birds' feet before their young could develop their waterproof adult feathers.
Penguins build their nests in sea ice and depend on this substrate to last beyond December for a successful breeding season. Emperor penguins are dependent on stable sea ice that is firmly attached to the shore from April through to January. If the ice fractures before early December, the young fall into the water and perish by drowning, BAS researcher Norman Ratcliffe explained.
"If they manage to survive in the water, their plumages become wet, leading them to die from hypothermia. Alternatively, they could stay on ice floes, but they become estranged from their parents, which condemns them to starvation," he added. Once they arrive at their chosen breeding site, penguins lay eggs in Antarctic winter from May to June. Eggs hatch after 65 days, but chicks do not fledge until summer, between December and January.
The researchers have examined satellite images from the European Commission's Copernicus Sentinel-2 mission showing the loss of sea ice at breeding sites, well before chicks would have developed waterproof feathers. The five colonies of penguins studied were all discovered in the last 14 years using satellite imagery - Rothschild Island, Verdi Inlet, Smyley Island, Bryan Peninsula, and Pfrogner Point. All five colonies had been shown to return to the same location each year to breed, with only one previous instance of breeding failure at Bryan Peninsula in 2010.
"We have never seen emperor penguins fail to breed, at this scale, in a single season. The loss of sea ice in this region during the Antarctic summer made it very unlikely that displaced chicks would survive," said Dr Peter Fretwell, lead author of the study.
"We know that emperor penguins are highly vulnerable in a warming climate - and current scientific evidence suggests that extreme sea ice loss events like this will become more frequent and widespread," he added.