A close ally of PM Sunak, Grant Shapps replaces Wallace as Defense Secretary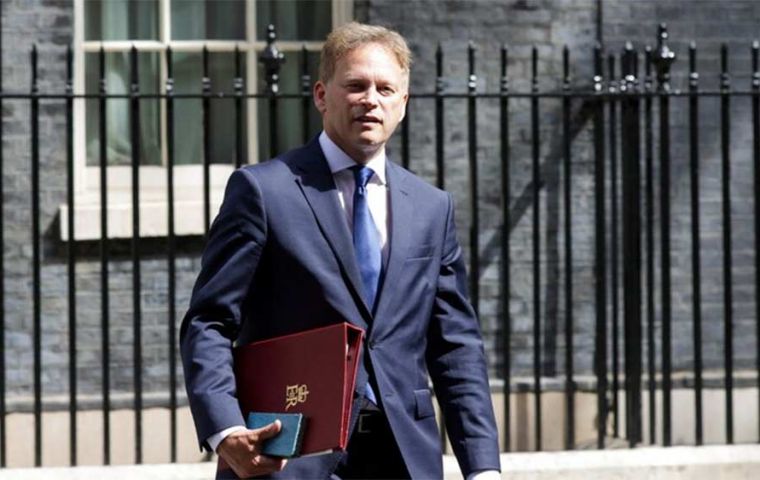 Grant Shapps, one of British Prime Minister Rishi Sunak's staunchest Cabinet allies, was named U.K. Defense Secretary on Thursday as Sunak began a Cabinet reshuffle ahead of a general election that is expected to take place next year. The move came after Ben Wallace formally submitted his resignation earlier in the day, honoring a promise made last month.
In a statement Shappas sid he was honored to take on the role in Defense and pledged to continue UK's support of Ukraine. It is Mr Shapps' fifth cabinet job in less than a year, including roles as energy secretary, transport secretary and, briefly, home secretary.
Children's Minister Claire Coutinho has replaced Shapps as Energy Security and Net Zero Secretary, and David Johnston, a Tory backbencher, takes over her role at the Department for Education.
Shapps paid tribute to the "enormous contribution Mr Wallace has made to UK defense and global security over the last four years".
"I am looking forward to working with the brave men and women of our Armed Forces who defend our nation's security," he added.
Grant Shapps is seen as one of the government's best communicators and has held seven cabinet roles since 2012.
Last October, he spent six days as home secretary during the final chaotic week of Liz Truss, following the resignation of Suella Braverman from that role. He was then appointed business secretary by Mr Sunak, when he took over from Ms Truss.
Shapps's longest stint in government has been as transport secretary where he negotiated repeated bailouts for Transport for London during the Covid-19 pandemic.
Since Russia's invasion of Ukraine, Mr Shapps has taken a visible role in the UK's support of the country. He took part in the Homes for Ukraine scheme, hosting a family of refugees at his Hertfordshire home. Last week he visited Ukraine as energy secretary, to highlight the UK government's role in guaranteeing a supply of enriched uranium to the country's nuclear power plants.
Labour's shadow defense secretary John Healey congratulated Shapps on his appointment, saying he would work with his opposite number "to keep our country safe" - but added that "after 13 years of Tory defense failures, a change at the top will not change this record".
Liberal Democrat defense spokesperson Richard Foord said Mr Sunak had appointed a "yes man", who will be in charge of "slashing troop numbers by 10,000".
"They have taken the armed forces for granted for too long, and we are all left less safe as a result," Mr Foord said.