Presidents of Uruguay and France to attend Rugby World Cup clash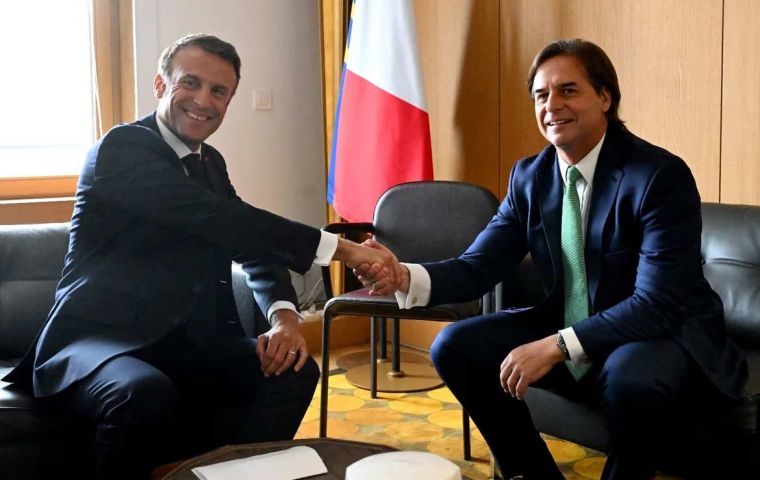 Uruguayan President Luis Lacalle Pou has accepted the invitation of his French colleague Emmanuel Macron to join him in Lille for the Sept. 14 Rugby World Cup game pitting La Bleu against Los Teros (as the national teams of both countries are known), it was reported Thursday in Montevideo.
The idea was first discussed during the encounter both leaders had in mid-July in Brussels during the summit of the Community of Latin American and Caribbean States (CELAC) and the European Union (EU).
According to Uruguayan diplomatic sources, Lacalle Pou and Macron would also hold an official bilateral meeting before the match.
Lacalle Pou will spend three days at most in France before traveling to New York for the Sept. 18 and 19 United Nations General Assembly (UNGA).
The Uruguayan president is known to be a rugby fan. He was at the stadium the day Los Teros qualified for the World Cup, and also when Los Teros sevens secured a berth in next year's Olympic Games in Paris.
According to Montevideo press reports, Uruguay also plans to use the Rugby World Cup to connect with French businessmen who intend to invest in the country through a meeting co-organized by the Uruguayan Rugby Union (URU), the Uruguayan Embassy in France and the French-Uruguayan Chamber of Commerce and Industry, in addition to the National Sports Secretariat and the National Meat Institute (INAC).

"France is a market that we are interested in promoting and starting to work on," Sports Secretary Sebastián Bauzá said.
"We will be receiving top-level European businessmen, who are also opinion makers so that the high level of our meats can be known," INAC President Conrado Ferber pointed out.
More info about the World Rugby Cup 2023