UN reports nearly 2,500 people killed in Haiti this year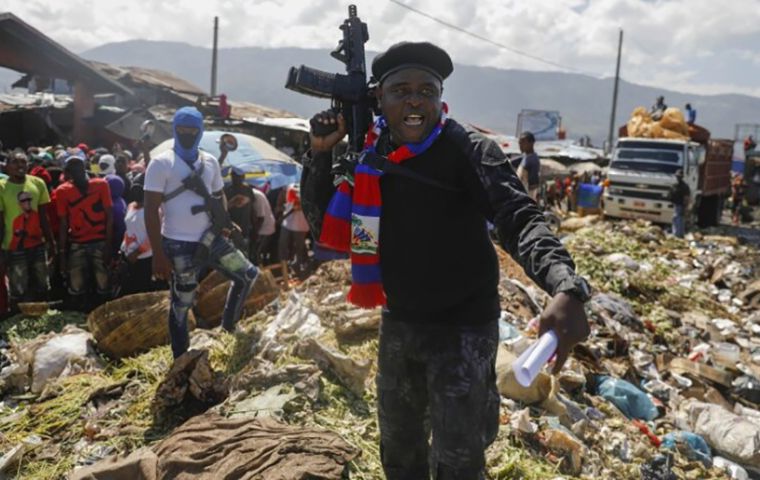 Around 2,500 people have died in Haiti this year while 1,000 have been injured and nearly 970 have been kidnapped, according to a statement from the United Nations Office for the Coordination of Humanitarian Affairs (OCHA) released this week.
Between August 15 and 29 alone, 71 people were killed, several were injured and more than ten thousand locals were forced to flee their homes due to serious human rights violations perpetrated by criminal groups nationwide. In addition to forced displacement and violent deaths, there are daily reports of kidnappings, lynchings, rapes, and sexual assaults against women and children. Some 200,000 people have fled their homes in the past two years as a result of gang violence.
"The humanitarian community is deeply concerned by this new escalation of extremely brutal violence. Entire families, including children, have been executed, while others have been burned alive," said Acting UN Humanitarian Coordinator Philippe Branchat.
The UN agency further stated that "immediate assistance is being provided to the displaced, including food, water, shelter, sanitation facilities, health care, and psychosocial support, in particular to victims of sexual violence," as almost half of the Haitian population needs humanitarian and food aid. A UN humanitarian aid plan requiring some US$720 million, has received less than a quarter of the funding needed.
"Haitians cannot continue to live cooped up in their homes, unable to feed their families, find work or live in dignity," said Branchat.
According to UN High Commissioner for Human Rights Spokesperson Ravina Shamdasani, more than 2,400 people were reported killed, more than 950 kidnapped and another 902 injured.
UN Secretary-General António Guterres said this year after a trip to Haiti that the people there were "trapped in a living nightmare" with humanitarian conditions "beyond appalling."
Last week, Kenya's police department sent a US-backed fact-finding mission to Haiti to assess the scope of a potential deployment. The US hopes others, like Jamaica, might follow Kenya's lead. The African country offered to send 1,000 law enforcement officers to help train and assist the Haitian national police. But while a resolution from the UN Security Council is needed to move forward (and that is not yet on the radar), Kenya's government also needs a green light from home, where civil society activists accuse the Kenyan police of murdering protesters.
In this scenario, US citizens were urged through a travel advisory this week to leave the country "as soon as possible" because of spiraling security and infrastructure "challenges," in addition to avoiding demonstrations and large gatherings of people while still in the Caribbean nation.