Uruguayan exports suffer 17% YoY drop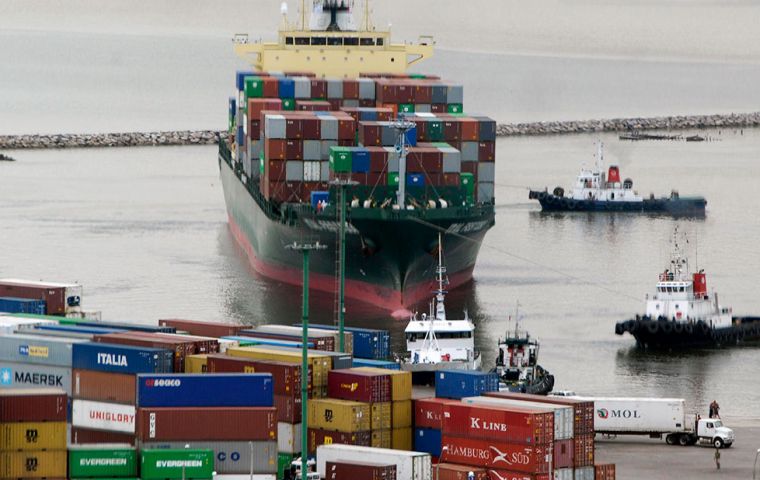 According to a study by consultants Uruguay XXI released Friday in Montevideo, exports from the South American country -duty-free zones included- totaled US$ 1.027 billion in August, which represented a 17% year-on-year drop.
The document said that "soybean was again the product with the highest negative incidence in the monthly evolution. The fall in dairy products was also highlighted, as well as in beef" and thence the overall fall despite positive figures in exports of beverage concentrates and rice.
"In the accumulated of the year, exports of goods reached 7,598 million, which determined a 19% reduction in the inter-annual comparison," Uruguay XXI also said.
Uruguayan exports "decreased again due to lower soybean sales, although dairy product exports also had an impact on the variation," the research also showed. "In the year-to-date, exports recorded a 20% drop when compared to the same period a year ago. Once again, the decrease was explained by the performance of soybean and beef exports." Soybean exports had a year-on-year drop of 83% compared to August 2022 due in "great part to the drought that occurred during this period".
The report showed that "beef was the main product exported during August and totaled US$ 183 million. Although it was the most exported product during the month, there was a 2% interannual drop. In turn, in January-August, exports decreased 28% compared to the same period of 2022. This was mainly explained by lower international prices. In August 2023, the price per ton of meat was US$ 5,549, while one year ago the price was US$ 7,092."
"Although China was the main export destination and at the same time increased its imported volume by 10%, in August the exported value decreased 21% compared to a year ago". "In fact, this figure amounted to 41% if the accumulated January-August 2023 is compared to the same period of 2022," the document also revealed.
"Regarding export destinations, Brazil continued to lead in August 2023 with US$ 188 million. It was followed by China, the European Union, the United States and, lastly, Argentina," it further explained.
Despite the discouraging news, Uruguay XXI insisted that the country "has consolidated itself as a reliable and attractive destination for foreign investors. The stock of foreign direct investment (FDI) in relation to GDP registered its maximum value in 2015, reaching a figure of almost 60%. In 2021 - the latest available data - the stock of FDI reached US$ 36,181 million, representing 53% of GDP."