South Georgia Biosecurity Handbook Update Released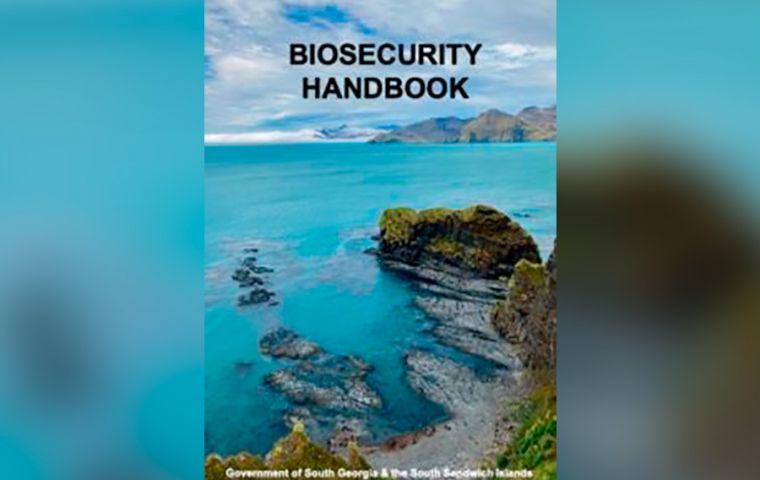 The latest version of the Government of South Georgia & South Sandwich Islands Biosecurity Handbook is now available online. The Handbook details the procedures which are in place to help reduce the risk of harmful non-native species and disease entering the Territory, along with the steps in place to detect them and limit their spread should they arrive.
Key updates for this year include:
Updated guidance on Highly Pathogenic Avian Influenza (HPAI)
HPAI has caused the death of high numbers of birds across the globe. In 2022/23 there were no reports of HPAI in the South Atlantic region, however, the confirmed presence of the disease on the South American continent makes it highly probably that it could arrive in South Georgia in the 23/24 season. This could have serious implications for the Territory's wildlife.
The updated guidance outlines the tiered response in-place to assess risk and detect the presence of HPAI. Mitigation measures include enhanced biosecurity procedures, signs to be vigilant for, and the steps in place for different groups / activities depending on the response level. If HPAI is suspected at a site, that site may be closed to visitors either temporarily or for the remainder of the season.
It is important that all visitors to the Territory familiarize themselves with this guidance and are ready to act should signs of HPAI be detected.
Updates to passenger audit system

The biosecurity audit is a physical check undertaken by Government Officers, on all vessels arriving in South Georgia to assess their compliance with biosecurity procedures, and the effectiveness of the procedures in place to reduce biosecurity risk.
Government Officers conduct a standardized inspection of clothing, footwear and bags to check for biosecurity risks. Following an analysis of the effectiveness of these audits, a more targeted system has been introduced for 2023/24 comprising of 'basic' and 'comprehensive' audits.
Both types of audit follow the same inspection procedure. However, basic audits will involve smaller sample sizes, with thresholds that are not intended to be statistically significant. These audits are designed to be an early warning sign that a more comprehensive audit is required on the next visit. Therefore, they are scaled by vessel size but not directly proportional.
For a comprehensive audit, a statistically significant sample size will be calculated which will be directly proportional to the number of passengers on board. The failure threshold for a comprehensive audit is 95%.
At the start of the season, visiting vessels have a 'comprehensive' passenger audit. Providing vessels achieve a score of at least 95% in a comprehensive audit, for subsequent visits, they can have a 'basic' audit.
These changes ensure that biosecurity standards are upheld, whilst recognizing those vessels implementing good systems and compliance. This will speed up the process and allow passengers to disembark faster to enjoy time ashore.