"The situation in Chile was chaotic", ex president Piñera recalls the Chilean coup
Thursday, September 7th 2023 - 11:19 UTC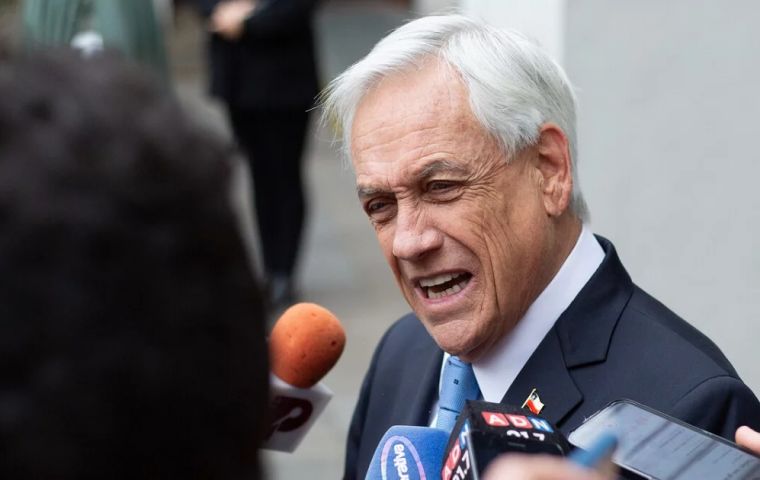 Next Monday, September 11th, Chile will remember the fiftieth anniversary of the military coup led by General Augusto Pinochet which overthrew constitutionally elected president Salvador Allende, the first Marxist to reach the highest office in the land. But the coup and half a century, far from healing the wounds that caused it have remained alive in Chile, in a community that can be said has been divided in half.
Because of the significance of the date, Chilean media has been covering the different chapters of the succession of events, interviewing protagonists, past and present, of what really happened and trying to determine if there are culprits who led to such a situation or was it a collective explosion.
One of those interviewed is twice former conservative president Sebastián Piñera, who referred to the days previous to September 11 as simply "chaotic", the "situation in Chile was pure chaos".
And Piñera points fingers towards elected president Salvador Allende as the most responsible actor of what happened.
"One thing is to ask yourself how is it we reached 11 September, so that never again there is a repeat of those circumstances, and when reaching 11 September, the main responsibility falls on the government of the Popular Unity, the coalition that with a minority attempted to impose in Chile the model of a Marxist society".
In other words the situation of Chile at the time was chaotic, "sometimes the left-wings like to think that Chile started on 11 September 1973, and that is simply not true".
On 11 September, "democracy was collapsing, but not of a sudden and unexpected death; Chilean democracy was very sick, most seriously sick."
And according to Piñera, September 11, coup day, was the end of it all, "maybe avoidable, of the long sequence of events."
Allende was unable to hold the cohesion of its fragile coalition destroyed from inside by very radical groups, heavily armed, who wanted to advance the Marxist march, be it by force if necessary, taking over farms, industries, mines and finally calling on soldiers and sailors to rebel against their officers.
This obviously condemned the whole castle of cards which crumbled with no support from the middle class, anxious to a quick return of law and order. Allende surrounded in government house, Casa de la Moneda, threatened with resistance, bur finally shot himself with the gun, a gift of a recent visitor to Chile, Cuban dictator Fidel Castro.
Followed a quarter century of strict military dictatorship.