Argentina: Export taxes lifted from industrialized agriculture products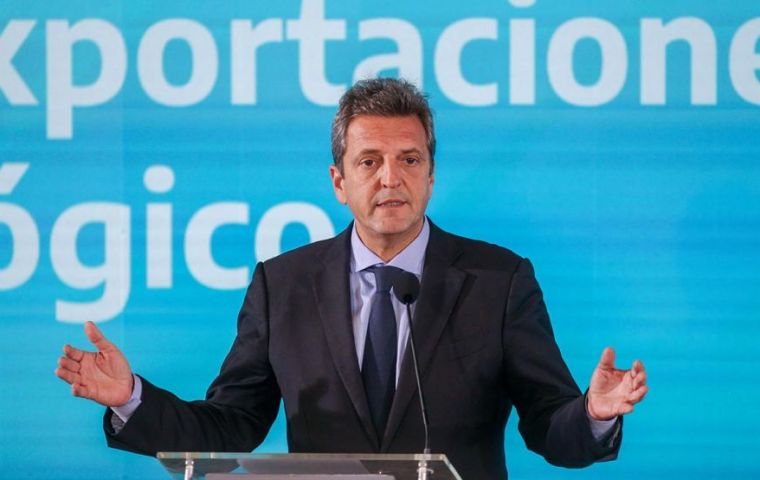 Argentina's Economy Minister and presidential candidate Sergio Massa Thursday announced the lifting of all export taxes to the sales abroad of regional economy products with added value, it was reported in Buenos Aires. The measure favors the agro-industrial sector which features over 1,200,000 registered workers.
Massa sat next to Agriculture, Livestock, and Fisheries Secretary Juan José Bahillo when he explained that the initiative sought to boost all regional economies whose exports are reached by industrialization processes.
The presidential candidate of Unión por la Patria (UP) pointed out that the measure was "fair and federal" and that it represented some US$ 180 million that will remain in the agro-industrial sector.
"We have decided to bring to zero the withholdings (export taxes) to all regional economies with added value, that is to say, with an industrialization process on primary production, so as to improve the competitiveness of all the Argentine regional economies," Massa said.
"The average value of the ton of exports of regional economies when industrialized is twice the value of primary exports in Argentina, and this is very important to continue accumulating reserves," he added.
"We feel that the freight costs that regional economies often pay do not have compensation mechanisms, and we believe that this is a way of adding competitiveness to regional economies," he went on.
"Through a joint effort, we can be more competitive, [and] accumulate more reserves, which is the way for Argentine development; it is not with magic recipes, it is not with declamatory solutions, but by making our exports more competitive, defending the value of our employment and accumulating reserves as Argentina will move forward and that is the way forward," the minister elaborated.
The decree published Thursday in the Official Gazette covers 371 tariff positions, 94% of which benefit from the elimination of the tax. The measures reach the agro-industrial sector of the provinces of Entre Ríos, Corrientes, Misiones, Córdoba, Mendoza, San Juan, Tucumán, Salta, Jujuy, Buenos Aires, Santa Fe, Chaco, La Pampa and Catamarca.
Among the products included are rice, peanuts, must, wines and ciders, dehydrated citrus peel, essential oils, forestry industry items (firewood, sawdust, plywood, among others), tobacco, industrialized potato, and fishing and aquaculture.