Over 2,000 people feared dead as Storm Daniel hits war-torn Libya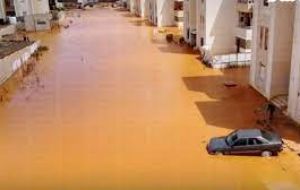 According to the latest reports from Libya, over 2,000 people are feared dead at dawn Tuesday after Storm Daniel unleashed torrential rain and extreme flooding across the north-eastern part of the country, while in the city of Derna, between 5,000 and 6,000 people are missing, including seven servicemen, Eastern Libyan Army Spokesperson Ahmed al-Mosmari said.
Derna has become inaccessible, and many of the people missing are believed to have been carried away by waters after two upstream dams burst. The Libyan Red Crescent also said three of its workers have died while helping families there.
As war-torn Libya lacks a central government, official data is also scarce to Western media. In this scenario, the UN humanitarian coordinator for Libya, Georgette Gagnon, said dozens of villages and towns have been "severely affected... with widespread flooding, damage to infrastructure, and loss of life."
Storm Daniel first brought devastating floods to central Greece as the system stalled in the Mediterranean Sea. When it moved south, it strengthened into a low-pressure, tropical-like system, before making landfall in Benghazi on Sunday afternoon (local time). This type of system is informally known as a "Medicane" — a portmanteau word for "Mediterranean" and "hurricane." It forms when a storm feeds off the warm waters of the Mediterranean. "Medicanes" often acquire similar traits to a hurricane, with clouds swirling around a central-eye-like structure. Experts have described this event as "extreme in terms of the amount of water falling in a space of 24 hours." It resulted in floodwater levels reaching as high as 3 meters in some areas.
The precise number is hard to determine with communications down and administration hindered by Libya's two rival governments. They have been fighting each other for control for years and they're each supported by their own militias and foreign governments. This has largely affected the country's development and infrastructure, as well as its access to aid. The Government of National Unity is based in Libya's capital, Tripoli, and is headed by Prime Minister Abdulhamid al-Dbeibah.
Most of the destruction from the storm appears to have taken place in areas controlled by the eastern government based in Benghazi and headed by Osama Hamad, who told Al Masar TV on Monday that the floods had swept away entire neighborhoods in Derna, leaving thousands of residents missing.
East Libya Health Minister Othman Abduljaleel spoke of 27 casualties, noting that this figure did not include the victims from Derna.
The Libyan disaster occurred just days after Daniel battered Greece, Türkiye, and Bulgaria, killing at least 14 people.
In Tripoli, Abdulhamid al-Dbeibah has declared three days of mourning in honor of the victims, designating the affected cities as "disaster areas."
The North African country has been split into two competing administrations since 2014, after the assassination of longtime leader Muammar Gaddafi in 2011.