There were other ways out, Boric says on 50th anniversary of Pinochet's coup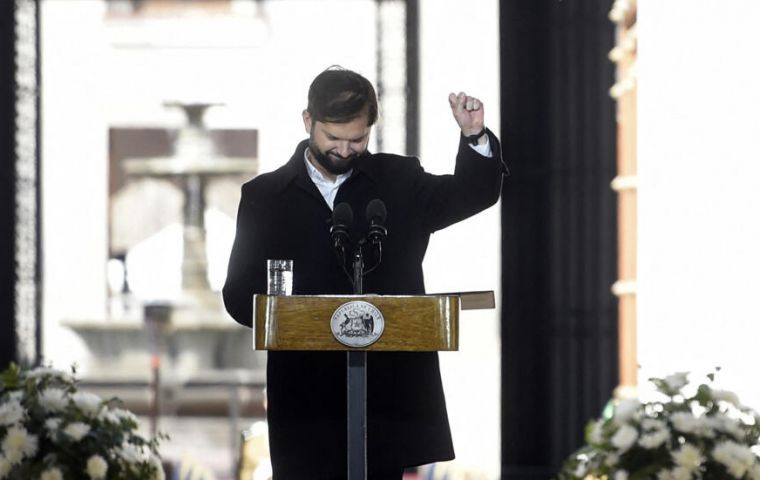 Chilean President Gabriel Boric Font insisted there were other ways out of the crisis his country was going through when Socialist President Salvador Allende was overthrown 50 years ago Monday by the military uprising of General Augusto Pinochet Ugarte, marking the beginning of a 17-year dictatorship.
"We rebelled when they told us that there was no other alternative, of course, there was another alternative! And tomorrow when we live through another crisis, there will always be another alternative that implies more democracy and not less," said the 37-year-old Boric.
"I do not regret being on the side of those who suffered," Boric also pointed out. "Never again should violence replace democratic debate", stating that this day of remembrance must serve to "strengthen coexistence". "Today we say before Chile and the world: democracy today and always", he stressed.
"The coup d'état is not separable from what came afterward. From the very moment the human rights of Chilean men and women were violated," Boric also pointed out.
"Democracy is a continuous construction" and "the only way to advance to a more just and humane society," the Chilean President insisted.
"It is among diversity and among those who think differently that we can build a better society," Boric also underlined.
"Reconciliation is not about matching responsibilities between victims and perpetrators, but about doing everything in our power to have truth and justice," Boric also stressed.
He also described Allende as a man "of impeccable democratic trajectory" and "an interpreter of great yearnings for justice."
Joining him at the commemorations were Presidents Luis Arce Catacora (Bolivia); Andrés Manuel López Obrador (Mexico); Gustavo Petro (Colombia); and Luis Lacalle Pou (Uruguay), in addition to Grandmothers of Plaza de Mayo President Estela de Carlotto, former Uruguayan President José "Pepe" Mujica, and former Spanish Judge Baltasar Garzón, in addition to Portuguese Prime Minister António Costa.
President Allende (1970-1973) was about to call a plebiscite in an attempt to get out of the acute political and economic crisis the country was experiencing, but was overthrown by Pinochet with support from the United States.
No representatives of Chile's right-wing parties attended the ceremony in La Moneda. They also withdrew from a declaration in favor of democracy signed Thursday by Boric and the four former presidents.
Isabel Allende, a daughter of the former head of state and a current Senator, narrated her Sept. 11, 1973, sided by Defense Minister Maya Fernández, a granddaughter of Allende's. "The right-wing parties have been unable to sign a letter strengthening democracy, saying that never again under any circumstances can there be a coup d'état. That is very painful. History will judge," she said.
US State Department Spokesman Matthew Miller said Monday in Washington that the 50th anniversary of the coup was "an opportunity to honor the victims of the repression that followed" Sept. 11, 1973. He also noted that the administration of President Joseph Biden "has tried to be transparent about the US role in that chapter of Chilean history by recently declassifying documents from 1973."