Argentina: August's inflation hits 12.4%
Thursday, September 14th 2023 - 10:15 UTC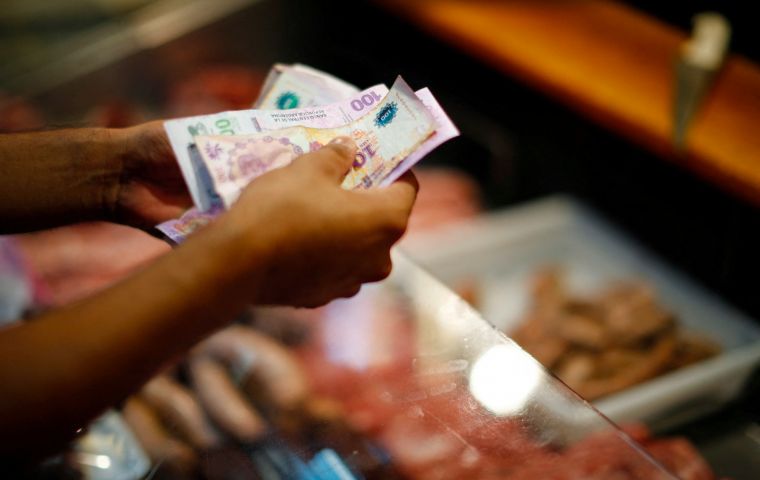 Argentina's National Institute of Statistics and Census (Indec) announced Wednesday that inflation for the month of August had reached 12.4% for a total of 124.4% in the last 12 months. The highest monthly rate in over 32 years came after the Aug. 14 devaluation of the Argentine peso. So far in 2023, the Consumer Price Index has accumulated an increase of 80.2%.
Economy Minister and presidential candidate Sergio Massa said it was "one of the worst months of the last 30 years as a result of an IMF imposition that hit our economy enormously, as was the devaluation plus the PAIS tax."
According to Indec, the items with the highest increase were "Food and non-alcoholic beverages" (15.6%), followed by "Healthcare" (15.3%) and "Household equipment and maintenance" (14.1%). Private analysts foresee September's inflation to remain in double-digit figures.
Before the devaluation, inflation in Argentina was already at alarming levels. July's index had been 6.3%, up 0.3 points from June, when it stood at 6%. The peak this year occurred in April (7.4%).
The lowest variations in August were Communication (4.5%) and Alcoholic beverages and tobacco (8.5%).
The Statistics Office of the City of Buenos Aires reported last week that inflation in the Buenos Aires district was 10.8% in August, up from 7.3% in July. Thus, the Buenos Aires price index accumulated an increase of 79.8% in the first eight months of the year and a year-on-year variation of 127.3%.
In this scenario, the Government rushed income compensation measures to mitigate the inflationary wave's impact on consumers the month before the presidential elections. Thus, the Economy Ministry engaged in negotiations with companies in a quest for agreed prices of basic food basket items.
Massa also said that "strengthening our currency is the best way to defeat inflation and that, in addition, it allows us to have the autonomy and sovereignty to pay the Fund and get it out of Argentina because" of its "inflationary and contractionary" recipes.