Argentina planning to become a major world exporter of natural gas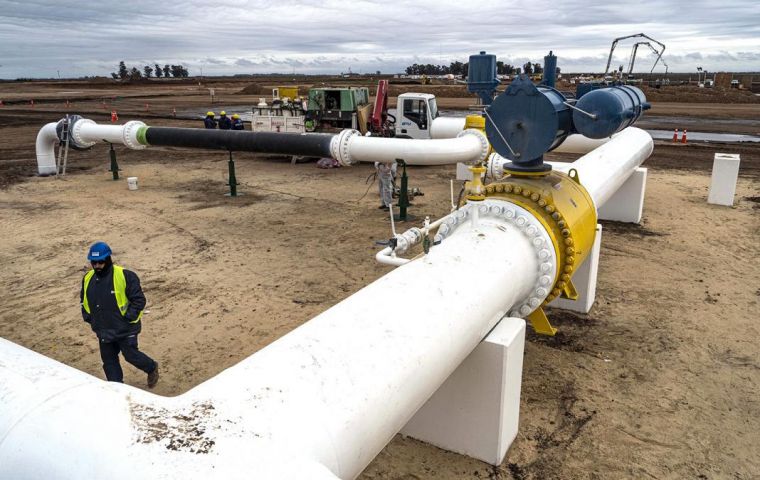 Argentina's government is focusing on stepping up exports of natural gas as production rises in the Vaca Muerta shale gas deposit, with the first goal to halt gas imports by 2024 or 2025 except at times of high winter demand, Energy Secretary Flavia Royon announced
The construction of a new pipeline with great capacity from Vaca Muerta, at Neuquen province, is fueling this export potential, she said at an Energy Summit in Buenos Aires, organized by the newspaper El Cronista.
The pipeline, named after former president Néstor Kirchner, started operations in July with an 11 million cu m/d capacity, when the first section, from Vaca Muerta to the province of Buenos Aires was completed. The addition of compression plants will increase that to 22 million cu m/d by October or November, while the full capacity of 40 million cu m/d should be reached by the second half of 2024, months ahead of schedule.
Similarly with the reversion of a northern pipeline to take Vaca Muerta gas from Patagonia to northern Argentina, the country will widen distribution of the shale gas in the country, Royon said.
"Argentina is not going to need to import LNG or gas from Bolivia" thanks to the additional takeaway capacity from Vaca Muerta, Royon said. "We are going to be self-supplied."
Argentina has been spearheading the pipeline project to reduce imports of gas and liquid alternatives like diesel and fuel oil, which have been a main drain on international currency reserves in the cash-strapped country. The effort appears to be working. Argentina ran an energy deficit of US$ 4.4 billion last year, which thanks to rising exports and dwindling imports should take it to a potential surplus of US$100 million this year and US$ 3.7 billion in 2024, Royon said.
However Royon said gas and liquid alternatives will still be imported during moments of peak demand in winter for heating, or when droughts deplete hydropower reserves. But these imports will not be routine, she added.
"Argentina is not going to need to make big purchases of LNG," Royon said. "With these infrastructure projects underway, the substitution of imports is going to be a reality for Argentina."
The driver of this is Vaca Muerta, one of the world's biggest shale deposits. In development for only a decade, it is already producing 50% of the country's 140 million cu m/d of gas, most of it in the province of Neuquén. The government of that province has estimated that its gas output, led by Vaca Muerta, will reach 140 million cu m/d in 2030, up from 91.4 million cu m/d in July. Argentina forecasts that the country's total gas production will reach 174 million cu m/d by 2030.
That will take gas output to above the 140 million annual average, but still shy of the 200 million cu m/d of peak winter demand.
The growth potential is fueling the development of projects and legislation for exporting gas, initially over existing pipelines to Brazil, Chile and Uruguay, and then in its liquefied form to the global market.
"With Vaca Muerta we are thinking of something much more ambitious for Argentina, which will be [supplying gas] far beyond our domestic and regional markets," Royon said "Argentina has an extraordinary opportunity with Vaca Muerta."
Earlier this year, Argentina submitted a bill to Congress providing tax breaks and other fiscal incentives to companies for building liquefaction capacity.
At least three projects are in the feasibility stage to build liquefaction terminals for exporting gas. The most advanced is a potential US$ 10 billion project by Argentina's state-backed YPF and Malaysia's Petronas, which have reserved land for the project at the Port of Bahía Blanca in southern Buenos Aires province. The terminal would be fed by a new pipeline with some 90 million cu m/d of capacity to export more than 25 million mt/year of LNG, with the investment increasing to as much as US$ 40 million.
Royon said Argentina is in a position to take advantage of the growing global demand for gas in the energy transition to net-zero carbon emissions by 2050. "We have a window of opportunity for LNG," she said. "Vaca Muerta has what is needed to be able take advantage of this."