Deadly virus leads to Covid-19-like measures in India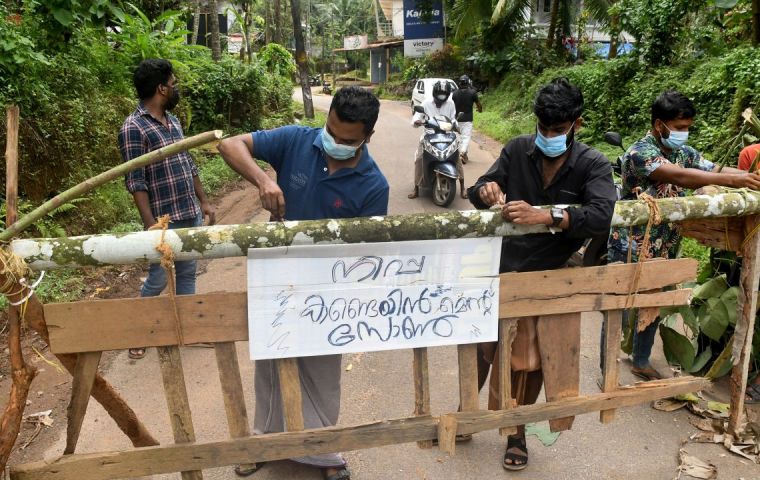 Indian authorities have closed schools and offices in the southern State of Kerala in a move to stop the spread of the Nipah virus, which has already caused two deaths. At least seven villages in the Kozhikode district were declared as containment zones, Kerala Health Minister Veena George also explained.
George also pointed out that mobile units were to be placed in Kozhikode to boost the capacity of medical centers and epidemiological studies will be carried out. More than 130 people have been tested for the disease.
The state also issued a series of recommendations to prevent infection, as well as a contingency plan for people with symptoms of the virus, which has so far caused the death of at least two people, the country's Health Minister, Mansukh Mandaviya, told reporters.
India detected the first outbreak of this virus in June 2018, when 17 deaths were recorded in the districts of Kozhikode and Mallapuram in Kerala.
The initial symptoms are high fever, headache, respiratory complications, and muscle pain, while, in a more advanced stage, the disease can lead to encephalitis.
One of the routes of transmission of the virus is through the body fluids of an infected person such as saliva and blood, or by ingesting meat from infected animals. People caring for the sick are also at high risk of contracting the virus.
Bats pigs and other animals can also contract the virus and transmit it when in contact with food. The natural host of this virus is the fruit bat, which feeds mainly on fruit.
There is no vaccine, so doctors can only deal with symptomatic treatment, and the mortality rate is up to 70%, according to the Centers for Disease Control and Prevention (CDC).
The World Health Organization (WHO) listed Nipah as a priority disease for research due to its epidemic potential, along with Ebola or Zika.