HMS Bristol: Falklands War destroyer up for sale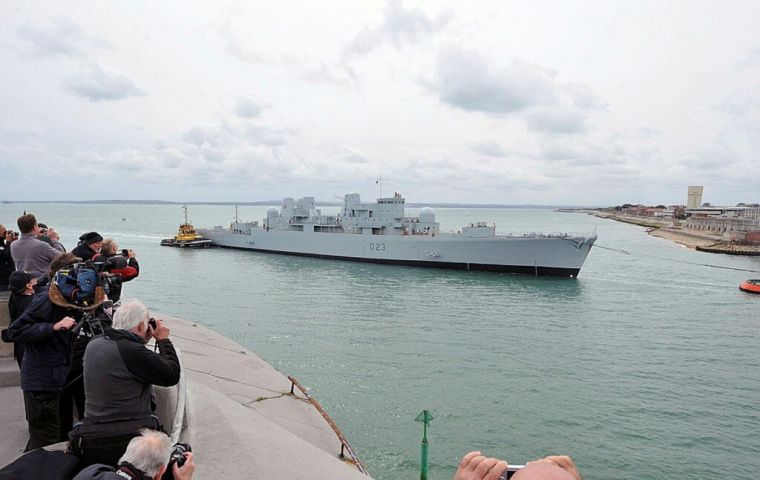 The British Defence Equipment Sales Authority (DESA) said four decommissioned Royal Navy units, including the unique HMS Bristol, have been put up for sale. The Bristol belonged to Task Group 317.8 during the 1982 Falklands/Malvinas War. The three other vessels on sale are the frigates HMS Monmouth and HMS Montrose, and the minehunter HMS Walney.
The HMS Bristol's last assignment was to serve as a training and accommodation ship until 2020, for which she was moored in Portsmouth harbor. In this role, the Bristol welcomed up to 17,000 visitors a year for 50 weeks, including sea cadets, offering the closest thing to a maritime experience without leaving port.
In 2011, the Bristol was refitted on Tyneside by A&P Group at Hebburn and was decommissioned in October 2020, after 47 years of service.
In 1982, the so-called "Bristol Group" set sail between May 10 and 12. It was made up of Type 42 destroyers HMS Cardiff and HMS Exeter, Type 21 frigates HMS Avenger, HMS Active, HMS Ambuscade, and the Leander class frigates HMS Penelope, HMS Minerva, and HMS Andromeda.
Once in the South Atlantic, the Bristol joined Task Force 317.8, recording Sea Dart missile launches with no shoot-downs. Its role as an anti-aircraft defense ship gained importance with the sinking of HMS Coventry on May 25.
When the aircraft carrier Hermes returned to the UK, Bristol took over as flagship until Sept. 17 under Vice Admiral Derek Reffell. She returned to the UK after being relieved by the carrier HMS Illustrious. Bristol was suitable as a flagship as she was large enough to host the extra staff members for this role.
The HMS Bristol was intended to be the first of a class of large destroyers to escort the CVA-01 aircraft carriers in the early 1970s but the rest of the class and the CVA-01 carriers were canceled due to spending cuts. HMS Bristol was launched in 1969, with four new weapons and electronics systems.
By the late 1980s, the ship was already becoming increasingly outdated. She was converted into a training ship in 1987. In 1991, she suffered a boiler explosion that damaged the vessel beyond economical repair.
Bristol's role as a training ship ceased on 28 Oct. 2020. The HMS Bristol Preservation Society is campaigning to save the Bristol as a museum ship. A petition created in 2020 on Change.org has garnered over 11,000 signatories.