Presidents of Uruguay, France meet for Rugby World Cup match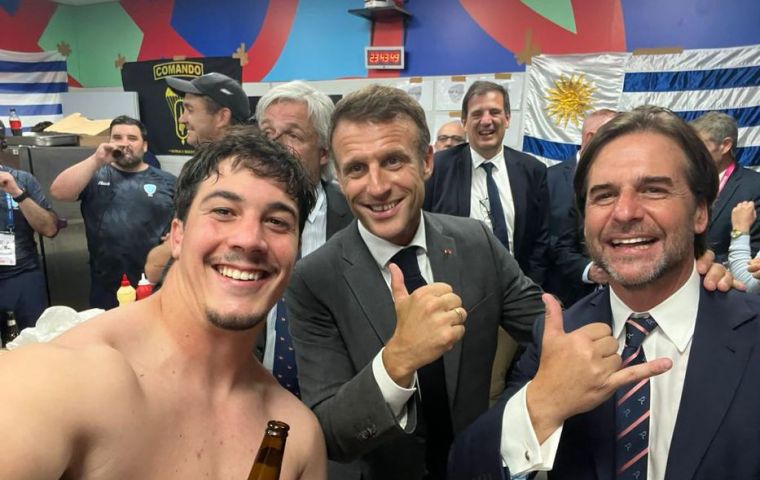 Uruguayan President Luis Lacalle Pou Thursday discussed the European Union-Mercosur trade deal with his French colleague Emmanuel Macron while meeting ahead of the Rugby World Cup clash in Lille between the two countries' national teams, which the hosts eventually won 27-12.
"Amigos pero... May the best team win!," Macron wrote on social media. "I am delighted to be here with you, dear President LuisLacallePou, on the occasion of this France-Uruguay Rugby World Cup match that we are proud to host in Lille," he added on X, formerly known as Twitter.
Lacalle Pou flew to France after attending the Sept. 11 commemorations of the 50th anniversary of the coup d'état in Chile.
While in Europe, Lacalle Pou also met with more than 130 French businessmen, some of whom showed interest in entering Latin America through Uruguay, it was reported. Some of their companies are already operating in the South American country.
Lacalle Pou met with Macron and one of the topics on the agenda was the delay in the possible agreement between the European Union and Mercosur (Southern Common Market).
Read also: Lula puts a deadline for the Mercosur/EU trade agreement: second half of 2023
The Uruguayan head of state is due in Montevideo to attend the closing of the traditional Expo Prado rural fair, after which he is scheduled to leave again for the United States where he will participate in a Summit of World Leaders during the 78th session of the United Nations General Assembly.
Lacalle Pou and Macron had already held a bilateral meeting in Brussels in July during the European Union and CELAC (Community of Latin American and Caribbean States) Summit. The Uruguayan president was moderately optimistic about advancing trade agreements following that encounter.