Advisor to Uruguay's Interior Minister resigns amid sex scandal
Tuesday, September 19th 2023 - 09:38 UTC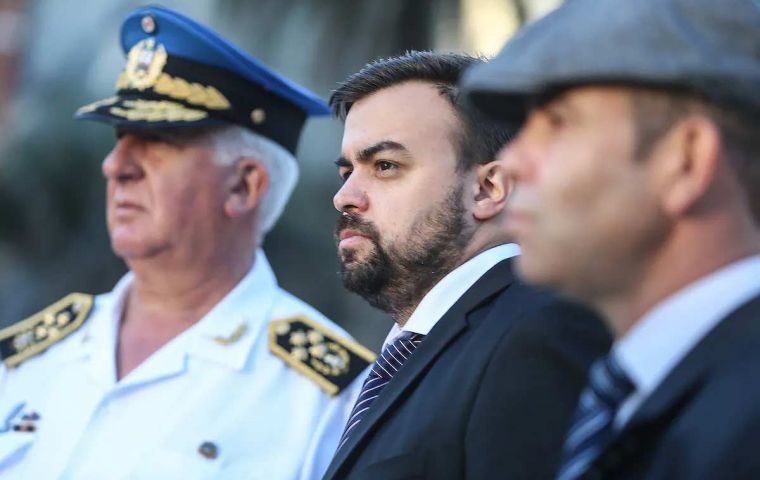 An advisor to Uruguay's Interior Minister Luis Alberto Heber Monday turned in his resignation amid a sexual harassment scandal that rocked Montevideo's political circles.
"In view of the facts of which I have become aware through the media regarding a complaint against me, facts that are being investigated by the Prosecutor's Office for Domestic Violence, Sexual Crimes and Gender Violence of the 7th District, and for the sole purpose of ensuring transparency, and to avoid linking such allegations to the management that has been carried out with great commitment and effort in the portfolio, is that I come before you for the purpose of communicating my resignation from the position I hold as advisor to the Ministry," wrote Andrés Capretti in a letter to Heber.
Capretti also said he was withdrawing from his activities within the National Party of President Luis Lacalle Pou and a part of the ruling Multicolor coalition.
"Grateful for the opportunity to be part of this government, today I have submitted these two notes: my note of withdrawal from party activities and from List 71 and my letter of resignation as advisor to the Minister of the Interior," Capretti wrote on social media.
Capretti's party activities meant his support to the presidential bid of Economist Laura Raffo. "In view of the events of public notoriety that have notoriously and sensitively affected not only my person, but also my family, for attention to the cause and, in particular, that Herrerismo should not be involved in these matters of a personal nature, I have decided to keep myself apart from the party activity and from the list 71," he also wrote.
Capretti has been denounced before the Prosecutor's Office for Sexual Crimes and Gender Violence. The case is being investigated by prosecutor Alba Corral. According to Montevideo's El Observador, a labor harassment complaint against Capretti was also filed before the Labor Ministry.