Paraguayan forensic psychologist causes uproar with swastika tattoo
Tuesday, September 19th 2023 - 09:44 UTC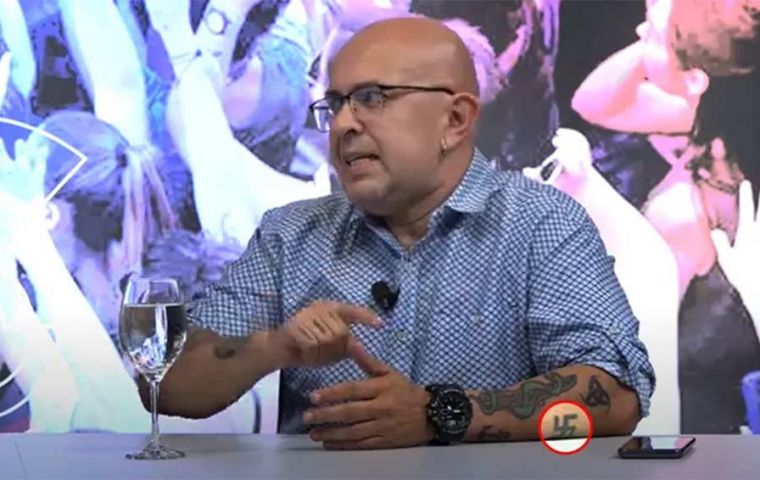 The swastika tattoo on the forearm of Paraguayan Forensic Psychologist Juan Vicente Martínez Miranda failed to go unnoticed during a TV interview and sparked an uproar Monday in the South American country since the specialist works for the national Judiciary.
The controversy over the appearance of a most notorious nazi symbol reached the Simon Wiesenthal Center (CSW), and the Latin American Office of the International Human Rights Organization confronting racism, xenophobia, discrimination, terrorism, and anti-Semitism, it was reported in Asunción.
A retired policeman, Martínez Miranda is also a member of the Paraguayan Society of Psychology.
"This would not be giving peace of mind about their professional opinions to minorities," argued the CSW. The organization also recalled that Paraguay does not have an anti-discrimination law, unlike Germany, where anyone advocating Nazism or denying the Holocaust can end up in prison for up to five years.
"In a country like Paraguay, where there is no anti-discrimination law, the news channel @npyoficial interviews this forensic psychologist from the Judiciary. This would not be giving peace of mind about his professional opinions to minorities," said the Simon Wiesenthal Center a Hebrew institution dedicated to documenting Holocaust victims and keeping records of Nazi war criminals and their activities.
Those defending Martínez Miranda on social media argued that in order to be considered a symbol of national-socialism the swastika had to be rotated 45 degrees, Asunción's Última Hora wrote.
"The etymological origins of the swastika are located in the Nepalese Sanskrit language, according to some international research," ABC Color explained.
"The swastika design dates back to the 5th century B.C., being part of Hinduism and the worship of the god Vishnu," it went on.