No country will be safe if Ukraine loses the war, Biden tells UNGA
Wednesday, September 20th 2023 - 08:26 UTC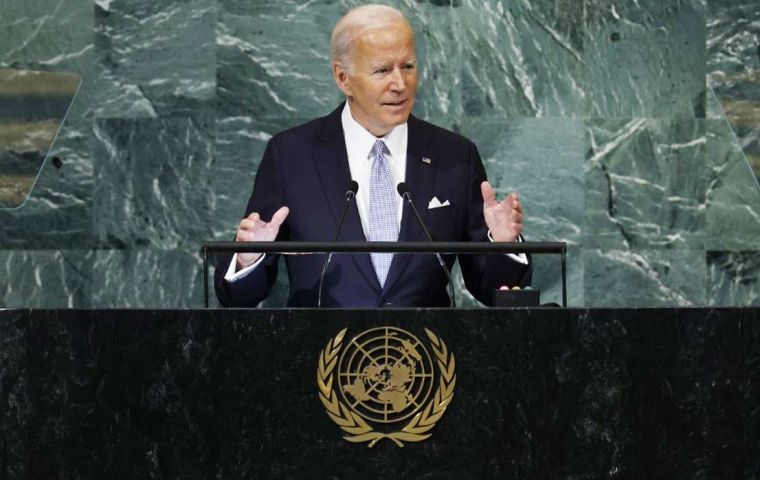 US President Joseph Biden Tuesday insisted before the United Nations 78th General Assembly (UNGA) that continued military support to Kyiv was needed to "deter" Russia from invading other countries in the future. He also claimed that no country would have its independence assured if Ukraine lost the war.
"If we abandon the basic principles of the UN Charter, can any member state feel secure? If we allow Ukraine to be divided, will any nation's independence be assured? The answer is no," he warned.
Biden then promised that the United States and its allies "will continue to stand by the brave Ukrainian people in defense of their sovereignty, their territorial integrity, and their freedom" and claimed the key to ending the conflict was in Russia's hands.
"No nation wants this war to end more than Ukraine," Biden said. "We strongly support Ukraine in its effort to bring about a diplomatic resolution that is just and lasting peace. Russia alone bears responsibility. Russia alone has the power to end this war immediately. Russia alone stands in the way of peace," said Biden.
UN Secretary-General António Guterres lowered expectations of any kind of breakthrough to resolve the war in Ukraine, a conflict in which many African and Latin American countries bet on neutrality.
Regarding Haiti, Biden urged the UN's Security Council to authorize as soon as possible the intervention of a multinational force led by Kenya. "The people of Haiti can wait no longer," he said.
Biden also said he was willing to work with other countries on the growing technology of artificial intelligence, which holds "enormous potential and enormous peril."
"We need to be sure it is used as tools of opportunity and not weapons of oppression," he argued because we need to "govern this technology and not the other way around."
Biden also expressed concern about democracies being toppled around the world, particularly in Africa. "We will defend democracy, the best tool to face challenges around the world," he pledged.
On Wednesday, Biden will meet with Brazilian President Luiz Inácio Lula da Silva before joining a rally hosted by US and Brazilian labor leaders to highlight rights for workers.
In line with Biden's speech, Ukrainian President Volodymyr Zelensky stressed in English that Russian "evil cannot be trusted" and that "terrorists have no right to hold nuclear weapons."
"While nukes remain in place, the mass destruction is gaining its momentum," Zelensky said.
"Ukraine gave up its third largest nuclear arsenal. The world then decided Russia should become a keeper of such power. Yet, history shows it was Russia who deserved nuclear disarmament the most. And Russia deserves it now - terrorists have no right to hold nuclear weapons," Zelensky stressed while calling for a complete nuclear disarmament. "It is a good strategy, but it should not be the only strategy to protect the world from the final war."
Earlier Tuesday, Zelensky questioned why the United Nations still allows "Russian terrorists" a seat at the table.