Spain makes official the use of three minority languages, Catalan, Basque and Galician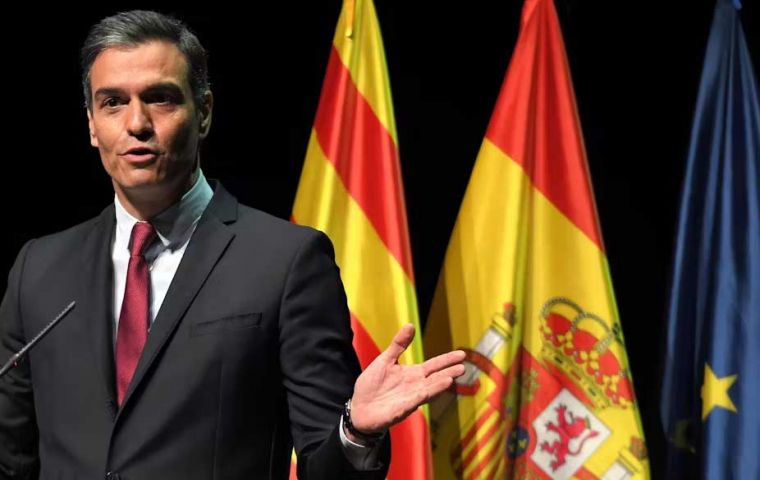 Spain's national parliament in Madrid allowed the use of three minority languages on Tuesday after a concession to Catalan separatists from Prime Minister Pedro Sánchez. Madrid has also called for the languages — Catalan, Basque, and Galician — to become official EU languages, meeting with objections from some other member states.
A member of Sanchez's Socialist party (PSOE) initially addressed the assembly in Galician but was interrupted by the leader of the far right Vox's party parliamentary group, Maria Jose Milla, objecting to his use of the language.
Milla was admonished by the speaker, prompting all of Vox's 33 lawmakers to abandon the chamber in protest. They left their translation earpieces on the chair of the prime minister, who is currently at the UN General Assembly in New York.
Vox opposes Spain's current system of devolved regional powers and has called for a national referendum that would ban separatist parties. "We don't want to be complicit of the breakdown of our co-existence," Milla told reporters.
While the main opposition conservative Popular Party (PP) is less hostile, it demanded that minority languages should only be allowed once there was formal approval.
Those rules were given the green light with 176 votes in favor, 169 against, and two abstentions after legislators listened to live translations into Spanish of all three minority languages. Catalan, Basque, and Galician were previously banned in the lower house although they were partly allowed in Spain's upper chamber, the Senate.
"This is a historic day... Finally the rights of Catalan speakers are being respected," said Miriam Nogueras, a lawmaker from the hardline Catalan JxCat party.
Sanchez made the concession in return for JxCat, which emerged from the election as a kingmaker, supporting PSOE's candidate to be parliamentary speaker.
Spain has also urged the European Union to recognize the three languages as official within its institutions — another of JxCat's remands.
The question was debated by top diplomats within the bloc earlier on Tuesday. It has met with opposition from some member states that said it would set an unhelpful precedent and trigger a domino effect of other minority languages being recognized.
There are currently 24 official EU languages, with another 60 regional and minority languages in the bloc. All 27 member states must agree unanimously to the inclusion of any additional official languages.
Around 9 million people in Spain's northeast and the Balearic Islands speak Catalan, as well as a small population in France.:36
Some 2 million people in northwestern Spain speak Galician, while Basque is spoken by about three-quarters of a million people in the northern Basque Country and Navarra region.
The linguistic reform and appeal to Europe come as Sanchez seeks to woo Catalan separatist parties to support him in an investiture vote. Although currently caretaker premier, Sanchez will have to wait until the end of September to have a crack at securing the job in the longer term.
The PP's leader Alberto Nunez Feijoo, whose party won more seats than any other, is first in line to have the chance of forming a government. Feijoo, himself a bilingual Spanish and Galician speaker, has so far failed to build a big enough coalition to secure a majority.