Falling prices for dairy and vegetables help a surprise fall in UK August inflation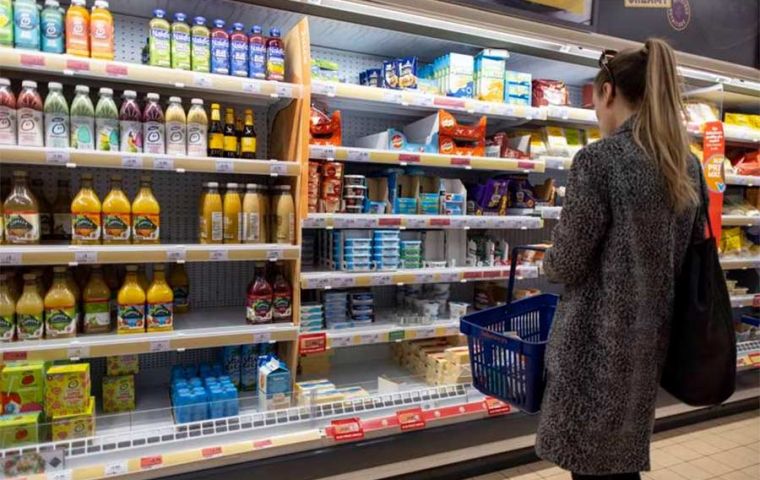 Falling prices for milk, cheese, and vegetables helped drive a surprise fall in United Kingdom inflation in August, with prices now rising at their slowest rate in a year-and-a-half.
Inflation, which measures how prices change over time, fell to 6.7% in the year to August, down from 6.8% in July, official figures show. It is the third month in a row that the figure has dropped.
Most experts had expected inflation to increase due to a rise in the cost of petrol and diesel last month, driven by higher oil prices.
But a slowdown in rising food prices and a drop in air fares and accommodation costs all helped drive the overall rate of inflation lower.
When the rate of inflation falls, it does not mean prices are coming down, but that they are rising less quickly.
Grant Fitzner, chief economist at the Office for National Statistics, said it remained "a mixed picture", but said food manufacturers were "paying less for food than a year ago," and this was "starting to pass through to consumers."
The drop in food prices is potentially good news for consumers who have seen shopping and restaurant bills soar.
Food prices went up around the world following Russia's invasion of Ukraine, which was one of the factors pushing up prices at supermarket tills.
The war disrupted supplies from the two countries, which are major exporters of goods such as sunflower oil, wheat, and fertilizer.
The government has pledged to halve inflation this year and chancellor Jeremy Hunt said the latest figures showed "the plan to deal with inflation is working".
But Labour's shadow chief secretary for the Treasury, Darren Jones, said the surprise fall in inflation was "nowhere near" enough.
At 6.7%, the UK's inflation rate remains high compared to other rich countries.
According to latest figures, inflation is 6.4% in Germany, 5.7% in France, 5.5% in Italy and 2.5% in the US.
On Tuesday, a new forecast from the Organization for Economic Co-operation and Development suggested prices will rise faster in the UK than any other advanced economy this year.