In a tight vote, Bank of England leaves interest rates unchanged, still the highest for 15 years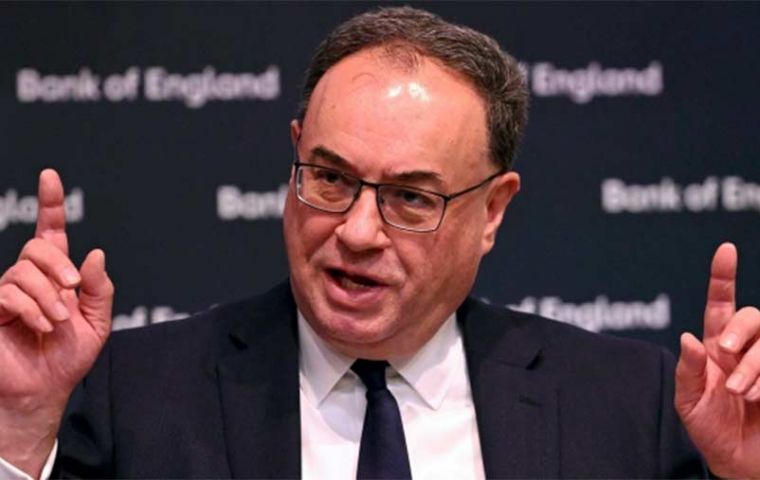 The United Kingdom interest rates were left unchanged after the Bank of England said price rises were slowing faster than expected. Interest rates were held at 5.25%, already their highest for 15 years, and comes after figures on Wednesday revealed an unexpected slowdown in inflation in August.
"Inflation has fallen a lot in recent months, and we think it will continue to do so," said Bank governor Andrew Bailey quoted by BBC.
There were also "increasing signs" that higher rates were starting to hurt the UK economy, the Bank said.
The Bank has raised rates for the past 14 times in a row in its battle to tame inflation - the rate at which prices rise - which remains much higher than usual. The increases have led to higher mortgage payments for many homeowners and on loans, but also higher savings rates.
Many analysts had expected rates to rise again, but the Bank's decision to leave them on hold raises the prospect that this is a turning point.
Speaking to broadcasters, Mr Bailey warned against "complacency" and "premature celebration" explaining "we've got a long way to go to bring inflation down to the Bank's 2% target".
He also played down any chances that rates might start to be cut soon.
The Bank's decision was a very close call, with four of the nine-strong rate-setting Monetary Policy Committee (MPC) voting for a rise, and five opting for a pause. Mr Bailey used his casting vote to pause the relentless series of rate rises.
In the end the inflation figures on Wednesday, which showed all of the main measures on cost of living easing, was enough for the Bank to conclude its medicine is working.
The chancellor has welcomed it as such. "We are starting to see the tide turn against high inflation, but we will continue to do what we can to help households struggling with mortgage payments," said Jeremy Hunt.
"Now is the time to see the job through. We are on track to halve inflation this year and sticking to our plan is the only way to bring interest and mortgage rates down."
Both the Bank, and the Treasury, however, will be wary of warnings of "premature celebration" from the International Monetary Fund, which has flagged how the jump in energy prices in the 1970s triggered inflation that proved tough to defeat.