New generation Falklander elected to the Legislative Assembly in representation of Camp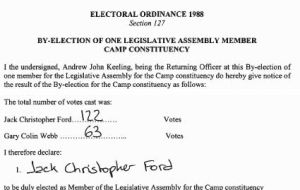 The Falkland Islands by-election for the Camp constituency, held on Wednesday 20 and Thursday 21 September resulted in the election of Jack Ford to office. The newly elected Member of the Legislative Assembly, Falklands autonomous internal government, told Penguin News that "personal contact and simple things like sitting in people's kitchens and just putting the time in to listen to what they've got to say" made a difference.
"That was a really good way to get people to talk about the concerns that they had," he said, "there were a lot of people I didn't manage to get to speak to, and we'll try very hard to make sure to maintain that engagement."
During the election Jack Ford, who works for the Falklands' government Auditing office stood on a platform of careful fiscal management, encouraging a diversification of industry and investment in key infrastructure while prioritizing funds shifting focus from "non-essential services."
He voiced concerns regarding climate change and the future of the wool industry as camp issues, and proposed an increase in consultation with Camp.
MLA Ford expressed a lack of support for salmon farming, and a concern for communications in the Falklands; issues around power generation, land management, food security and waste disposal, and voiced the view that "pooling knowledge and resources will allow us to identify solutions more effectively."
Asked on election night whether he would be hoping to continue with the Island Security Portfolio his predecessor MLA Hansen held, or whether he was hoping for a shuffle of portfolios, MLA-elect Ford told Penguin News, "I'm looking forward to meeting the rest of the MLAs and seeing what everyone has to say. I think if they were open to discussing potential reshuffling that could be interesting – but of course I would put all of my efforts behind whatever portfolio I wind up with."
In his campaign manifesto MLA Ford concluded "if elected I will demonstrate a realistic, measured and common-sense approach to decision making to ensure continued sustainable development and the protection of our Islands."
Gary Webb in gentle man fashion said of the result, "C'est la vie, what shall be shall be." He went on to thank those that nominated, supported and voted for him, "but now is time to enjoy my holiday."
Turnout for the 2023 by-election was high, with a total turnout of 75.61% of 231 Camp voters casting votes, that is 186 and one rejected ballot.
Turnout for by-elections is generally lower than in general elections in the Falklands. The previous general election, held in 2021, saw an 86.6% turnout for camp and 77.6% for Stanley.