Bolsonaro did entertain coup plans, former aide tells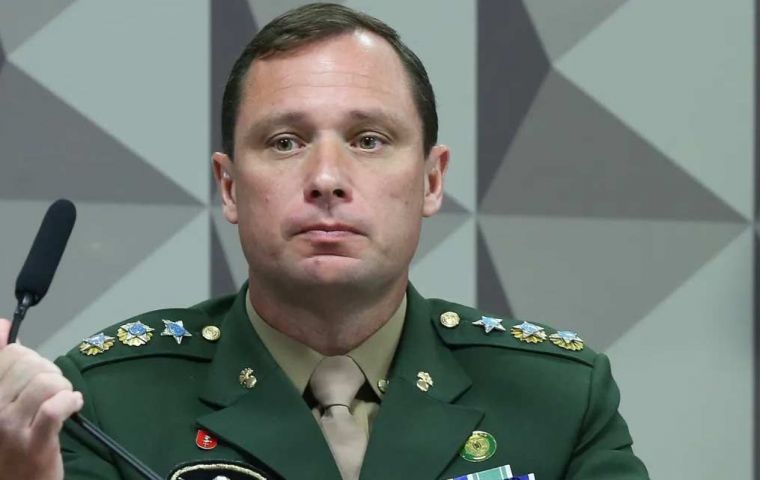 Brazilian Army Lieutenant-Colonel Mauro Cid, a former aide-de-camps to then-President Jair Bolsonaro, has told the Federal Police as part of a plea bargain that, shortly after his defeat in the runoff to Luiz Inácio Lula da Silva, the head of state was handed by his advisor Filipe Martins a draft decree to call new elections.
Cid also explained that the measure included the arrest of opponents, and that Navy Chief, Admiral Almir Garnier Santos, was in favor of the coup plan during backroom conversations, but there was no support from the High Command of the Armed Forces.
Bolsonaro's former assistant also told investigators that he witnessed both the meeting in which Martins delivered the document to Bolsonaro and the meeting between the then-president and the military.
In this regard, Bolsonaro's legal team denied any violation of the Constitution and insisted that during his presidency (2019-2022) he never tolerated any movement or project that did not have the support of the law. Bolsonaro "never adopted any attitude that confronted the limits and guarantees established by the Constitution," said counselor Fábio Wajngarten in a statement in which he also vowed to take steps "against any slanderous manifestation."
Defense Minister José Múcio said Thursday that the story shows that, except in some isolated cases, the military did not accept the coup proposals and guaranteed the rule of law in Brazil.
Bolsonaro, currently under investigation for questioning the reliability of the Brazilian electoral system, has been disenfranchised by the Superior Electoral Court (TSE) for eight years for abuse of political power and misuse of the media spreading false allegations about it. In a virtual meeting Friday, the TSE upheld its decision declaring Bolsonaro ineligible in response to an appeal filed by the retired Army captain.
With Justices Raul Araújo, Floriano de Azevedo Marques, and Nunes Marques yet to vote, an unsurmountable majority was reached Friday when Alexandre De Moraes, André Ramos Tavares, and Cármen Lúcia cast their opinions in line with case rapporteur Benedito Gonçalves.
Bolsonaro's lawyers had argued that there was a curtailment of defense in the trial due to the lack of analysis of all the arguments presented by the defense and the presentation of witnesses.
Cid was arrested in May for another matter involving him in a scheme to forge Bolsonaro's Covid-19 vaccination certificate to travel abroad but was paroled after agreeing to cooperate.