Argentina: JxC candidate wins gubernatorial elections in Mendoza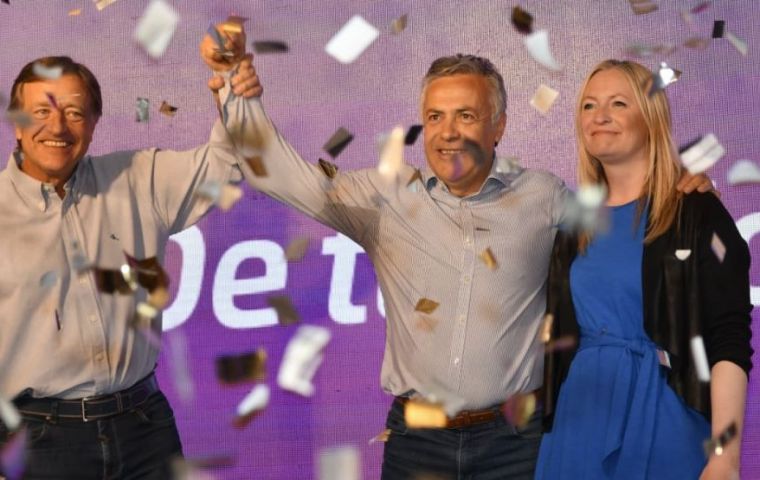 Alfredo Cornejo of the Radical Civic Union (UCR), a party within the opposition Juntos por el Cambio (JxC) alliance and particularly close to presidential candidate Patricia Bullrich, won Sunday's elections to become governor of Mendoza for the third time in his life.
Cornejo obtained 39.50% of the votes, comfortably ahead of the Libertarian Omar de Marchi, a former member of PRO (the other main party within JxC), who reached 29.67%.
With these results, Congressman Javier Milei's La Libertad Avanza (LLA) failed once again to win over a governorship despite its success at the Aug. 13 Mandatory, Open, and Simultaneous Primary (PASO) elections while JxC scored its third consecutive gubernatorial victory in three weeks.
Bullrich traveled to Mendoza to join Cornejo's celebrations. Her Vice Presidential candidate Luis Petri is also from Mendoza.
Cornejo celebrated his victory in the provincial elections and asked Argentines to vote for Patricia Bullrich, presidential candidate of Juntos por el Cambio, who accompanied him on stage.
"Once the provincial government is elected, we want to ask the people of Mendoza, but also the Argentines, to make a safe change, a sustained change in Argentina, so that we are not in ups and downs, ups and downs, with the danger of returning to populism in a very short time," Cornejo said.
"That is why we are here, from Mendoza, asking you to vote in the elections for the formula of Patricia Bullrich, president, and Luis Petri, from Mendoza, vice president," he added.
"Here there is a team to govern Argentina. There is a team that can take the country forward. We are not only going to move the country forward with anger. We are going to take the country forward with ideas, with projects," he went on while insisting he would accompany Bullrich and Petri "everywhere possible to transmit" the message of Juntos por el Cambio: "We need Patricia Bullrich as president of the country."
Mendoza is the fifth province in number of voters, with 4.22% of the total electoral registry.