Covid-19 understaffed Gatwick Airport adopts contingency plan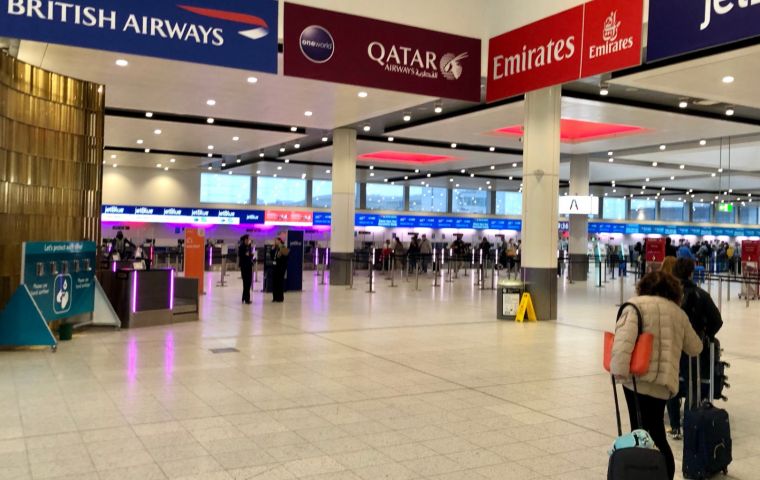 Authorities at London's Gatwick Airport, the second-busiest in the British capital, have announced a cap on the number of flights this week due to understaffed air traffic control operations amid an outbreak of Covid-19. A daily 800-flight limit affecting both departures and arrivals has been imposed until Sunday.
Since around 30% of Gatwick's air traffic controllers (9 or 10 staff of a total of 30) are on sick leave for a variety of reasons, including Covid-19, the measure was adopted to "prevent as much disruptions as possible," Gatwick's CEO Stewart Wingate said. The largest number of cancellations will be on Friday, Sept. 29, with 65 fewer flights than planned.
"This has been a difficult decision but the action we have taken means our airlines can fly reliable flight programs, which gives passengers more certainty that they will not face last-minute cancellations," Wingate also pointed out.
Around 8,000 travelers are said to be needing to rearrange their schedules as a total of 164 flights will be canceled. In this scenario, carriers such as Ryanair have called for Wingate's resignation. EasyJet made the most cancellations, with 42 flights affected.
Gatwick has advised passengers to check the status of their flights with their airline before going to the airport. Ryanair said they would not "be canceling any flights to or from Gatwick Airport" because "it is the most basic requirement to hire and train adequate staff numbers including standby coverage," a statement from Ryanair read.
Air traffic control service NATS has reassured passengers that its "operational resilience in the tower will improve as our staff return to work and we move out of the summer schedule, which is particularly busy at Gatwick."
"We will continue to recruit and train air traffic controllers at Gatwick as fast as possible to ensure we return to a fully resilient operation as soon as we can," NATS also said in a statement.