Argentine Senate greenlights Income Tax reform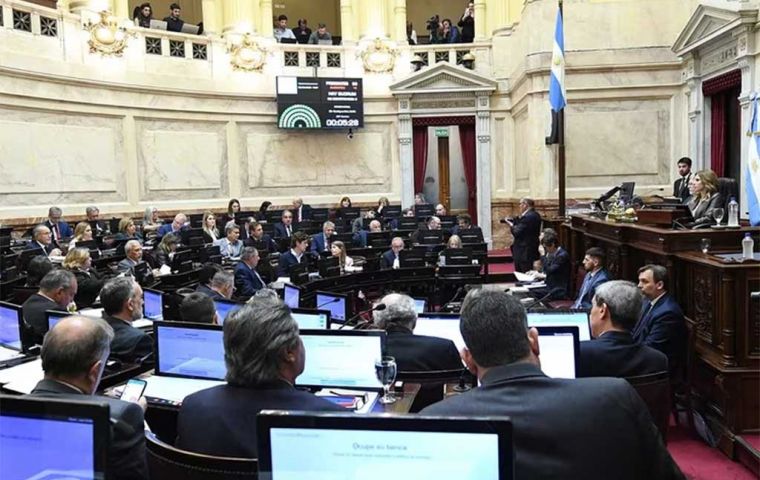 The Argentine Senate Thursday passed a bill by 38 votes to 27 to up the barrier indicating who must pay the Income (Earnings) Tax. Despite opposition from Juntos por el Cambio (JxC) citing "electioneering" intentions, the measure proposed by Economy Minister and presidential candidate Sergio Massa was approved last week by the Lower House.
After a Minimum Wage Council (SMVM) plenum, the new threshold has been set at AR$ 1,980,000 (around US$ 2,506 at the current "blue" exchange rate) for the last quarter of 2023, thus improving Massa's AR$ 1,770,000 (US$ 2,240) initial cut.
Senator Martín Lousteau (JxC) said Earnings "was adjusted three days before the [Mandatory, Simultaneous, and Open Primary] PASO [elections] and again 34 days later" and regretted that the initiative "does not contemplate the impact of inflation".
The former Economy Minister under then-President Cristina Fernández de Kirchner (CFK) also argued that "0.83 of the GDP is lost, it is doubling the deficit, which will lead to higher emission and more inflation."
This new tax will have a progressive rate on the surplus, ranging from 27% to 35%, and will be updated with the value of the minimum wage twice a year, it was also announced. Thus, only 88,000 taxpayers will pay income tax, less than 1 percent of the total remunerations, retirements, and pensions, according to official calculations.
The initiative does not include high-ranking positions within private companies, such as directors of corporations, CEOs, managers, and assistant managers, it was explained. Privilege pensions such as those of former presidents and judges as well as wages of sitting political officials were also excluded.
There will be special treatment for people living in the provinces of La Pampa, Río Negro, Chubut, Neuquén, Santa Cruz, Tierra del Fuego, and in the district of Patagones in the Province of Buenos Aires, it was also explained. The non-taxable minimum in those areas will be increased by 22%.
"All the measures adopted are electioneering and so scandalous that they will lead us to hyperinflation," Senator Luis Naidenoff (Formosa) of the UCR, a party within the JxC coalition, said. With this measure "46 million Argentines are being crushed with the inflationary tax," he added.
The Senate also granted its consent Thursday for the continuation of Justice Ana María Figueroa as a member of the Criminal Court of Appeals that might end up reviewing ongoing cases against Vice President
CFK, who did chair the session regarding the income tax but had left her seat to Senator Claudia Ledesma Abdala while Figueroa's case was being debated.
With voting tied at 35 for each option, Ledesma's opinion was required to tip the scale in favor of Figueroa, who had been declared dismissed by the Supreme Court (CSJN) last week for having turned 75 without a new Senatorial consent.
Thursday's vote opened up a new debate between those who claim Figueroa cannot be "reinstated" after the CSJN's ruling -Naidenoff said she would be a "squatter"- and those who maintain that with the Senate's decision all constitutional requirements have been met for her to remain on the Court.