Trade deal between Paraguay and the United States extended until 2025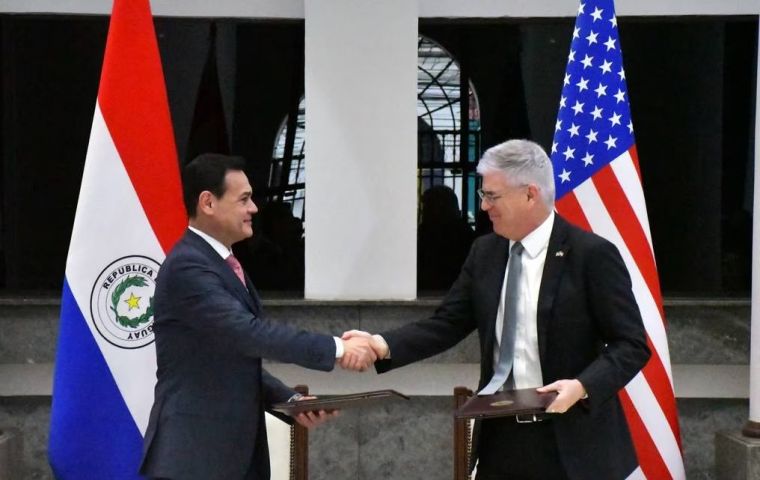 Authorities from Paraguay and the United States agreed in Asunción this week to extend until 2025 an agreement in place since 2019 to expedite the exchange, marketing, importation, and exportation of agricultural products.
"The agreement we just signed is another example of the United States' commitment to expanding trade and inclusive economic growth," said US Ambassador Marc Ostfield after meeting with Foreign Minister Rubén Ramírez Lezcano.
"This will grow Paraguay's economy, increase transparency, and reduce corruption risks," he added, stressing that legal certainty and a "level playing field" would strengthen Paraguay's position as a business partner, which, in turn, would attract further foreign investment. Ostfield also highlighted that the U.S. invested US$ 2.3 billion in commercial goods in 2021.
According to the Paraguayan Foreign Minister, the agreement will simplify procedures and automate all trade, commercialization, import, and export procedures. It also includes the reduction of non-tariff barriers, transparency, and automation of the foreign trade process.
The Agricultural Systems and Technology to Facilitate Trade in Paraguay (T-FAST) program has had a positive impact on the "modernization of support processes" in trade with government institutions, said Minister Ramírez.
"This is an important milestone in the partnership between the Paraguayan Ministry of Foreign Affairs and the US Department of Agriculture and reaffirms our commitment to promoting trade facilitation in Paraguay," he added in a statement.
T-Fast is funded by the US Department of Agriculture's (USDA) Food for Progress program. Since last Monday, a delegation of senior officials from various US government agencies has been in Asuncion, led by Daniel Watson, Assistant Secretary for the Western Hemisphere at the Office of the US Trade Representative (USTR).
Watson traveled to Paraguay to hold the second round of talks of the Trade and Investment Council of the Trade and Investment Framework Agreement (TIFA) between Paraguay and the United States, according to the US Embassy in Asunción.
The Office of the US Trade Representative (USTR) maintains that the Jan. 2017 TIFA between Paraguay and the United States seeks to strengthen economic and commercial relations. The agreement recognizes the importance of creating an open and predictable environment for international trade and investment, as well as the need to promote transparency and combat bribery and corruption.