US Gov't shutdown imminent as temporary funding bill rejected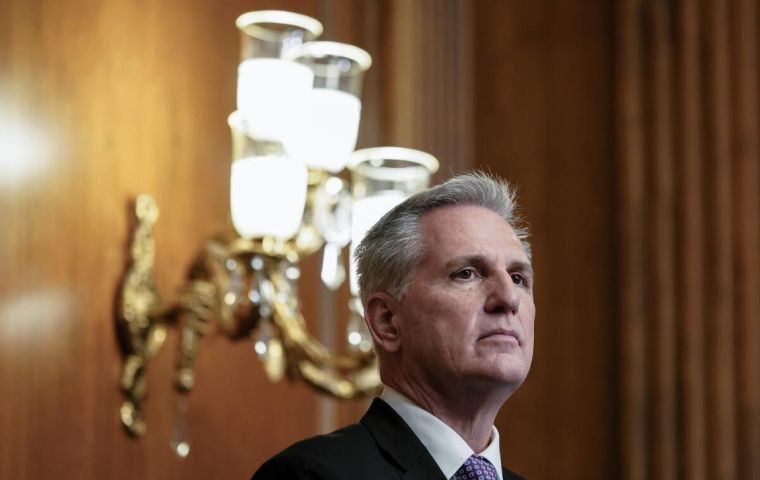 The Government of the United States faces an imminent shutdown after 21 hard-line Republican representatives joined Democrats to halt by 232 votes to 198 a stopgap measure to fund the government for 30 days. In this scenario, it is almost certain that federal agencies will partially shut down starting this Sunday, Oct. 1.
"It's not the end yet, I have other ideas," said House Speaker Kevin McCarthy after his temporary initiative to fund the government pending further negotiations failed. Lawmakers in Washington DC acknowledged that time was running out and that a shutdown would ensue unless McCarthy could broker an unlikely compromise with hardline conservatives.
The bill would have cut spending and imposed restrictions on immigration and border security, Republican priorities that have little chance of passing in the Democratic-majority Senate. Meanwhile, the Senate, in a bipartisan effort, was pushing a similar bill, known as a continuing resolution or CR, to fund the government through Nov. 17.
The National Park Service will shut down, the Securities and Exchange Commission will suspend most of its regulatory activities, and the salaries of up to 4 million federal workers will be disrupted beginning Sunday if Congress does not pass a spending package before then. As in previous occasions, it would also affect the issuance of travel visas at consulates worldwide.
US Treasury Secretary Janet Yellen said Friday that a government shutdown could delay important infrastructure improvements. It would be the fourth federal agency shutdown in a decade and comes just four months after a similar standoff left the government just days away from defaulting on a debt payment of more than US$ 31 trillion. The risky political gamble generated concern on Wall Street, where ratings agency Moody's warned that the stalemate could damage the country's creditworthiness.
"We actually need a stop-gap measure to allow the House to continue to finish its work, to make sure our military gets paid, to make sure our border agents get paid as we finish the job that we're supposed to do," McCarthy said. He had confidence that his plans, which included a 30% across-the-board cuts for most agencies and more spending on border security, would pass, notably because the measure also contained no funds for assisting Ukraine in its war against Russia.
On Friday, the White House Office of Management and Budget issued a statement mentioning "a blatant violation of the funding agreement the speaker and the president reached just a few months ago."