One in ten Scots living in "very deep poverty," Rowntree Foundation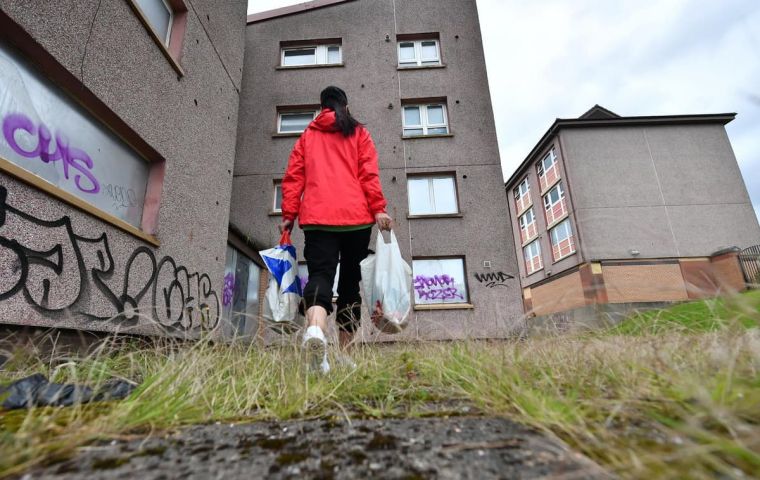 BBC published a report saying half a million people in Scotland are living in "very deep poverty", an anti-poverty charity report has found. The Joseph Rowntree Foundation (JRT) said poverty for working people was growing and 10% of employees were in locked in persistent low pay, with women and ethnic minorities most at risk, and 60% of children in poverty have at least one working parent.
The UK government said it was giving "unprecedented support", and economic growth was the best way to cut poverty.
The charity considered "relative poverty", "very deep poverty" and "in-work poverty" in Scotland.
The latest JRT State of the Nation report said more than a million people, including 250,000 children, were living in relative poverty.
This is defined as having a household income after housing costs lower than 60% of the national average (median).
The 490,000 people in very deep poverty account for about one in 10 people in Scotland - an increase of 300,000 since the last report in March.
This is classified as having below 40% of the median household income after housing costs are taken into account.
For a couple with two school age children this is less than £ 427 per week, or £153 for a single person.
The report said there was an increasing trend of "in-work" poverty where there was relative poverty despite a household member being employed.
Almost three-quarters of families in this category had at least one person working in retail, hospitality, health and social work, administrative and support services and/or manufacturing.
Housing costs had a huge impact, with 110,000 people in working families "pulled into poverty due to their housing costs", meaning their income was "enough to escape poverty" but outgoings were excessive.
People from a minority ethnic background experienced a rate of in-work poverty more than triple the rate for white workers, while 70% of those "trapped in persistent low pay" were women, and another 70% were single.