Uruguayan exports keep downhill path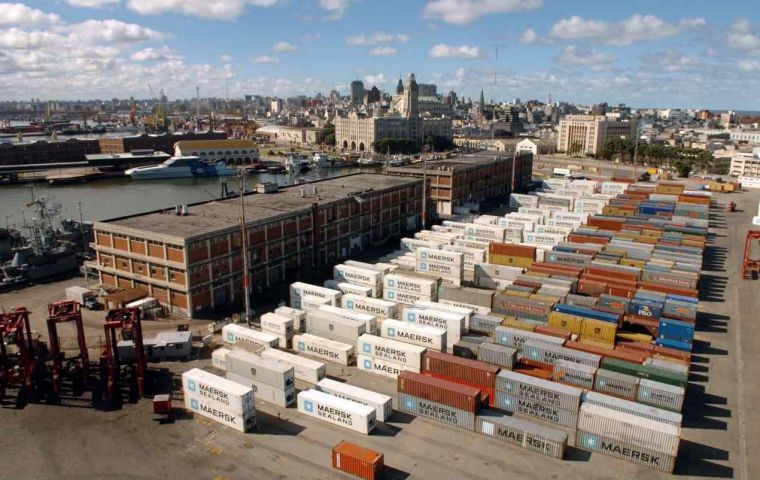 According to a foreign trade study by the Uruguay XXI Institute released Monday in Montevideo, the South American country's exports continued to fall in the month of September by 9% year-on-year and 18% so far in 2023.
In September 2023, export requests, including duty-free zones, totaled US$938 million, down 9% from the same month last year, due to declining sales of meat, soybeans, dairy products, and cellulose. And so far in 2023, exports reached US$ 8,519 million, down 18% year-on-year, due to the steady decline in soybean and beef shipments, in addition to the poor performance of cellulose in September.
However, foreign pulp sales reached $171 million in September for a year-to-date total of $1.479 billion, an 11% improvement from last year.
Beef exports totaled US$ 164 million, down 18% from September 2022 and down 27% from the same period in 2022, due to a 31% decline in placements in China, which fell to US$ 79 million from US$ 113 million in September 2022.
Exports of dairy products reached US$ 67 million, a 34% decrease compared to 2022.
Brazil remained the main destination for Uruguayan products in September 2023 with US$ 171 million, followed by China, the United States, the European Union, and Argentina.
Meanwhile, a separate report by the Union of Uruguayan Exporters (UEU) showed that sales in September decreased by 1.5% compared to the same month of 2022, for a total of US$ 807 million. The document concurred that Brazil was the main destination with 21.98% of Uruguay's foreign sales. China was in second place with 15.06% and the United States in third with 8.14%.
Meat was the main product exported in August this year (US$ 187 million), with a decrease of 17.5% compared to the same month last year, due to a decrease in its placement in China, the United States, and Israel. It was followed by wood with sales of US$138 million, an increase of 27.1% over the same period last year, and cereals in third place (US$68 million), an increase of 40.8%.
The report also stated that in the first nine months of 2023, the decrease in exports was 21.3% compared to the same period last year, with sales reaching US$ 7.059 billion.
Adding to the overall decline was last summer's severe drought, which caused soybean production to plummet. As a result, rice outperformed soybeans, with the last harvest nearly sold out. Vehicles also sold well abroad in September.