Aerolíneas Argentinas targets Uruguayan market for the summer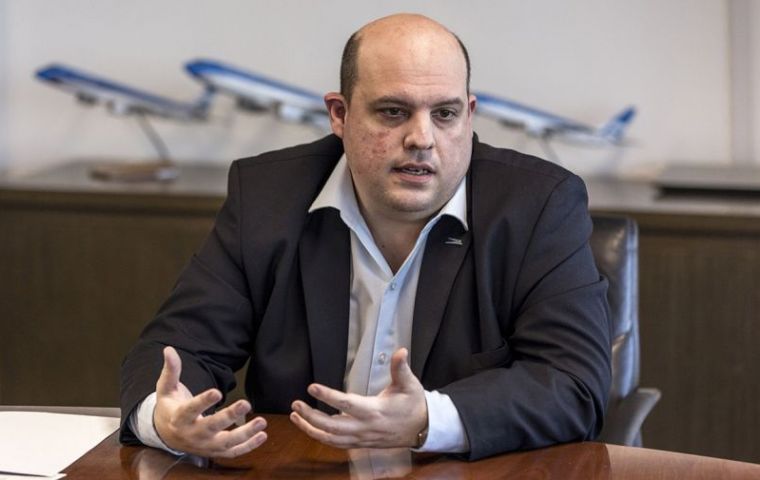 Aerolíneas Argentinas will be offering nonstop seasonal services linking Montevideo with Bariloche and Mar del Plata starting Jan. 2 and Jan. 3 respectively, among other changes for the summer announced by the South American country's flag carrier.
There will be two weekly frequencies departing from Montevideo on Tuesdays and Fridays at 12:25 p.m. and arriving at Bariloche airport at 3:10 p.m. While, in the reverse direction, it will be on Tuesdays and Sundays at 6:05 p.m. and arriving at Carrasco airport at 8:25 p.m. The flights will be operated with B737-800 aircraft, which can accommodate up to 170 passengers.
Aerolíneas' strategy aims at bringing more foreign travelers to the country because "inbound tourism has been growing for five months above the pre-pandemic levels, and these figures are largely due to the role of Aerolíneas Argentinas, which has added flights and frequencies of a net inbound nature," the company said in a statement.
"With Aerolineas as a protagonist, so far this year more than five million foreign tourists have already arrived and spent more than 3.7 billion dollars, turning the sector into one of the main engines of the Argentine economy. This new flight deepens this work with the expectation of having an absolutely record summer season," it went on.
The Bariloche City Hall expressed that "continuing to add international non-stop flights allows us to position ourselves as one of the most important tourist destinations in the country. The Uruguayan market is choosing us more and more every day, and we are working to make this happen."
Aerolíneas CEO Pablo Ceriani pointed out that "this new flight is part of the series of announcements we have been making in terms of regional connectivity with the aim of continuing to boost inbound tourism, both in summer and winter. The direct flights from Sao Paulo, the new Montevideo - Mar del Plata flight, and the new federal routes that connect the whole country without the need to go through Buenos Aires, in coordination with a joint work agenda with agencies, entities, secretariats, and embassies, are the key for the continuous commercial expansion of Aerolíneas."
"Aerolíneas Argentinas is committed to federalism and the growth of the country as a vacation and business destination. That is why we are working hard to have a robust, efficient, and commercially attractive flight network. The development of domestic tourism is one of the main pillars of this administration," he added.
Aerolíneas Argentinas operates 61 weekly flights to Bariloche from Buenos Aires (increasing to 72 weekly flights in December), five weekly flights to Córdoba (increasing to six in December), three weekly flights to Calafate (increasing to five in December), three weekly flights to Rosario, two weekly flights to Viedma and three weekly flights to Mendoza. In addition, during the winter season, it flies daily to Sao Paulo and connects twice a week with Mar del Plata.
The company's Director of Tourist Development Ariel Ciano announced that the sale of tickets for the Mar del Plata-Montevideo (Uruguay) route for the 2024 summer season has begun. Ciano pointed out that "the flights between the 'Ciudad Feliz' and Montevideo will start on Jan. 3, 2024, and will be extended until March 3 with two weekly frequencies."
"This is undoubtedly an unprecedented route, never before flown by the company, which will implement flights on Wednesdays and Saturdays, departing from the Uruguayan capital at 11 am and 10.20 am, and returning from Buenos Aires at 6.10 pm and 5.20 pm," said the official.
Ciano assured that "ticket sales have already started" for this route and highlighted that "with the return of this new international connection, after 30 years, many Uruguayans will have the possibility of visiting Mar del Plata and all the neighboring coastal districts of Buenos Aires."
"Tourism is one of the vectors of economic development that generates genuine quality, well-paid jobs and foreign currency for Argentina," he added.
"As we believe in an intelligent State that generates conditions and private investment, we met with the hotel, industrial, entertainment, and gastronomic sectors and they are all very hopeful and optimistic about this route, which is very important for Mar del Plata," he went on.
Furthermore, "in the next summer season we will have connections with Córdoba, Rosario, Tucumán, and Mendoza, as well as with the Atlantic corridor that connects Mar del Plata with Bahía Blanca, Trelew, Comodoro, and Río Gallegos", he announced.