Biden to travel to Israel while Washington might ease sanctions against pro-Palestine Venezuela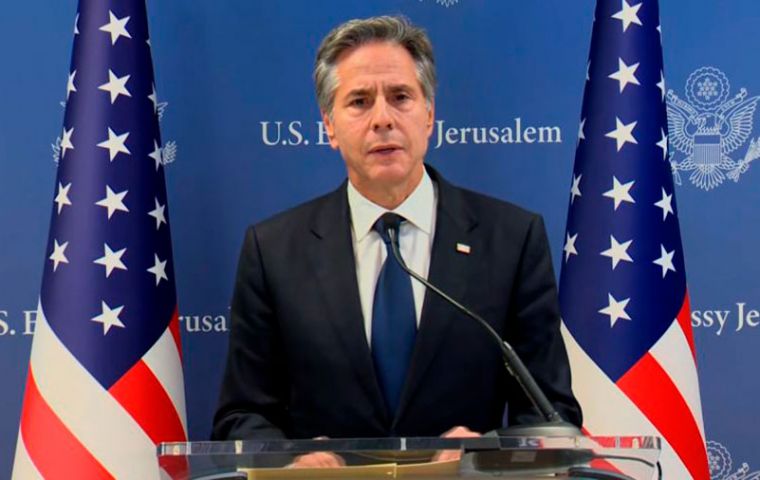 While US President Joseph Biden announced Monday he would be traveling to Israel this coming Wednesday to express his country's support in light of Hamas' attacks, his administration hinted sanctions against Venezuela would be eased if free and fair elections are held in 2024. Venezuelan leader Nicolás Maduro has forcefully expressed his support for the Palestinian cause and against Israel.
US Secretary of State Antony Blinken said President Biden would visit Israel Wednesday, at the invitation of Prime Minister Benjamin Netanyahu. Biden's trip is as a gesture of "solidarity" in the current scenario.
"He is coming here at a critical time for Israel, for the region, and for the world," said Blinken who is already in the Middle East. The Secretary of State also highlighted Biden's efforts after the attack by the Islamic Resistance Movement (Hamas) that left more than 1,400 dead in Israeli territory, including about thirty US nationals.
"Israel has the right and, indeed, the duty to defend its people from Hamas and other terrorists and to prevent future attacks," Blinken insisted. "The president will hear from Israel what it needs to defend its people as we continue to work with Congress to meet those needs," he added.
Meanwhile, it was reported in Washington DC that the Democratic government would review its sanctions if Maduro were to introduce some reforms. The Washington Post claimed a deal had been reached with the Maduro administration but other sources in the US capital said otherwise.
According to reports, the governments of Biden and Maduro had reached a deal whereby Washington would ease sanctions related to Venezuela's oil industry in exchange for Caracas allowing international observation in the 2024 presidential elections. Such agreement was expected to be announced Tuesday after a meeting in Barbados between the Venezuelan government and the opposition, which will aim at resuming the political dialogue, frozen for 11 months.
Measures against Venezuela were toughened under President Donald Trump. They included economic constraints against several Venezuelan officials, including Maduro's son "Nicolasito" in addition to restrictions on the US operations of Petróleos de Venezuela (PDVSA), the main source of foreign currency for Caracas.
Biden kept most of these sanctions unchanged but, in November last year, he authorized Chevron to resume its extraction operations in Venezuela, albeit with limitations.