Paraguayan President involves OAS in Paraná Waterway crisis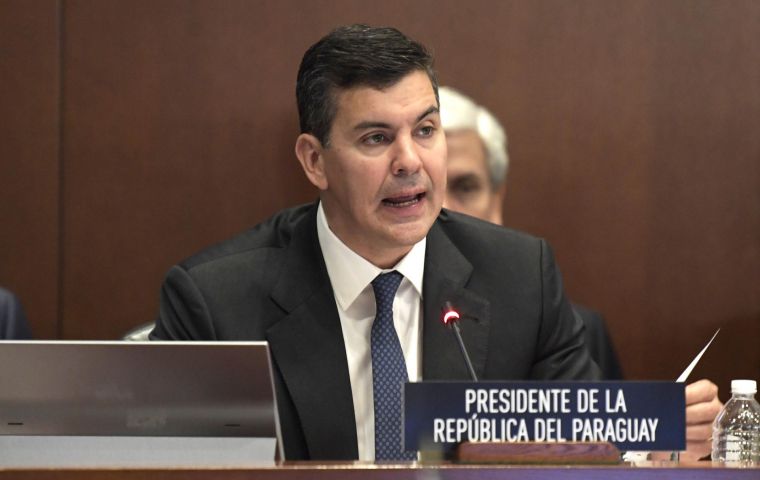 Paraguayan President Santiago Peña has filed a complaint with the Organization of American States (OAS) against Argentina's "unacceptable" and "protectionist" decision to impose tolls on barges passing through the Paraná River waterway. However, he failed to mention the neighboring country during his appearance before the continental body's Permanent Council.
Peña underlined the importance of foreign trade for Paraguay and described tariff and non-tariff barriers as obstacles that limit free navigability, as the governments of Paraguay and Argentina have agreed to technical and political dialogue.
"Our mediterraneity makes the fight for these values inexcusable and a matter of state, foreign trade is key because it is a source of job creation and prosperity," Peña told the OAS Council. He also acknowledged the "temporary disagreement" with Argentina and expressed confidence that both countries would find an understanding. Peña also plans to raise the issue at a Mercosur summit scheduled for Dec. 6 in Brazil.
Upon his return from Washington, DC, Peña said he shared the United States' concerns about China's growing influence in the region, particularly in the bi-oceanic corridor. "We need to sit down between five presidents and define the role of this great highway, 3,200 kilometers, the largest integration project in the Americas, and the possibility of generating tremendous development in the coming years."
He also pointed out he was confident that foreign investment in his country would increase after his trip: "I am sure that, in the coming years, we will see a significant increase in foreign investment from American companies," Peña noted.
"On Tuesday, we had the opportunity to meet with senators and very experienced representatives, many of whom are curious about Paraguay's position. They have heard our name more often," he added.
Peña then compared his country's experience in bilateral relations with the United States to that of Taiwan: "Paraguay, along with Taiwan, has an agenda that is very similar in its relationship with the United States," he said. "Our relationship with Taiwan attracts a lot of attention in the American Congress. They recognize and highlight Paraguay's role as the largest country to have diplomatic relations with Taiwan," he added.
Regarding a recent increase in the salaries of Paraguayan lawmakers, the head of state considered it fair after "no adjustments in 10 years," which had significantly eroded their real income.