Carnival could face cascade of demands following a ruling on a Covid 19 outbreak in one of its vessels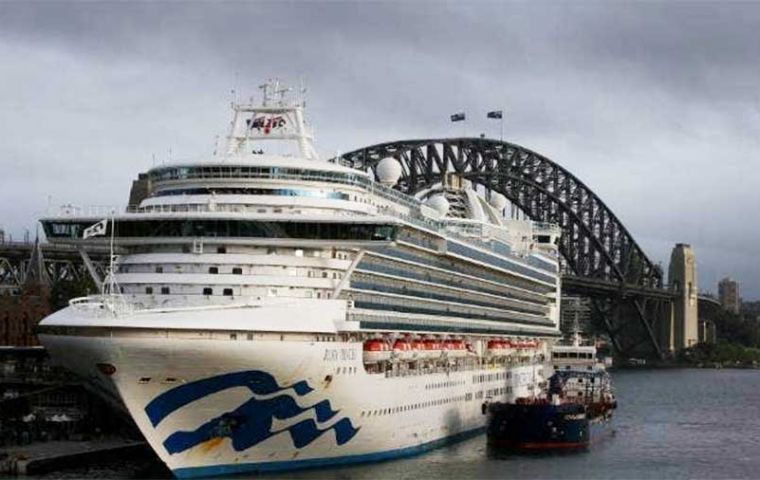 Cruise operator Carnival could face a cascade of demands following a ruling by an Australian judge referred to passengers' safety and an outbreak of Covid-19 on board one of its vessels. According to the ruling, the company misled passengers about safety risks and should have canceled a voyage by the Ruby Princess in March 2020 before it departed.
Some 900 Covid cases and 28 deaths were linked to an outbreak onboard. The landmark ruling could open the door to hundreds of others claiming damages.
The case's lead claimant Susan Karpik, a retired nurse, was travelling with her husband Henry on the Ruby Princess as it sailed from Sydney to New Zealand in March 2020, right at the start of the pandemic.
Some 2,671 passengers and 1,146 crew members were on board.
Mr Karpik, a retired police officer, fell ill with the virus and was hospitalized for two months, during which time he was put into an induced coma and at one point given days to live.
The judge ruled Carnival's Australian division was found to have been "negligent and in breach of their duty of care", and ruled Ms Karpiks should be awarded US$ 2,826 plus interest for out-of-pocket medical expenses.
This is a fraction of the US$ 320,000 she sued for, but the ruling opens the door to 1,000 other passengers who travelled on the same voyage to make claims.
Judge Agnus Stewart ruled that Carnival "knew or ought to have known" about the "significant risk" of an outbreak with potentially "disastrous" consequences, yet it proceeded "regardless" and that any "reasonable person" would have cancelled the cruise.
Speaking outside the court, Mrs. Karpik remembered the 28 people who lost their lives following the outbreak, saying many "would have been celebrating a significant event in their lives" in taking the cruise.
There had been an outbreak of an "influenza-like illness" on a voyage taken immediately prior to the trip, the judge said in his ruling. That voyage had ended early on 8 March 2020, and had raised the risk of the virus being carried over to the next trip, he added.
The ruling is the first class action win against a cruise ship in the world, according to Shine Lawyers, and opens the door to 1,000 other passengers who travelled on the same voyage to make claims.
The number of claimants could also grow should Australia's High Court rule 700 American passengers can be included in the class action lawsuit.