Gasoline supply must be normalized, or else... Massa warns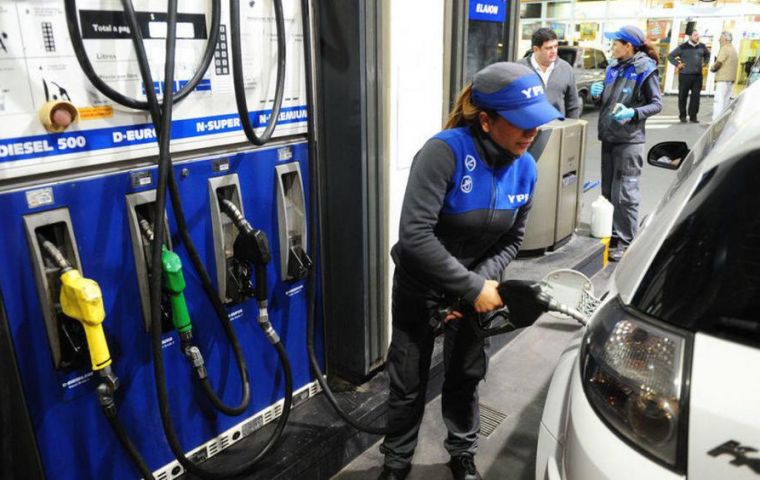 Argentine Economy Minister and presidential candidate Sergio Massa warned oil companies that unless the fuel shortages are solved by Tuesday, they would not be allowed to ship any exports abroad, it was reported.
"If it is not solved by Tuesday night, they will not be able to take out a ship," Massa said. "First the oil of the Argentines belongs to the Argentines," he added during a press conference in Tucumán while participating in the swearing-in ceremony of Governor Osvaldo Jaldo.
"At some point, there were some who speculated that according to the electoral result there was going to be a devaluation," Massa argued. Others "speculated on the expiration of the [price] freezing agreement, and there was talk of a 20% increase, 40% increase...," he added-
Massa underlined that "if the State had no regulations today, the liter of gasoline would sell for AR$ 680 (around US$ 0.7 at the unofficial exchange rate).
"The discussion is on November 19 whether or not each Argentinean pays $680 or pays today's value. That is the difference between the two projects of the country. We saw it with transportation," Massa also underlined while pointing out that "the Argentine oil sector is beating production records."
For oil companies "it is much more attractive to export at international barrel value than to sell in the domestic market, at a regulation that we have put in place to protect the people's pockets, which is called 'barril criollo'," Massa also explained.
"I am delighted that Argentine oil companies export more, [and] generate foreign currency, but first of all the Argentine people," Massa stressed.
On Saturday, the oil refining companies YPF, Raízen (Shell), Trafigura (Puma), and Axion said that the fuel supply in the domestic market would be normalizing shortly.