South Africa Wins Fourth Rugby World Cup Title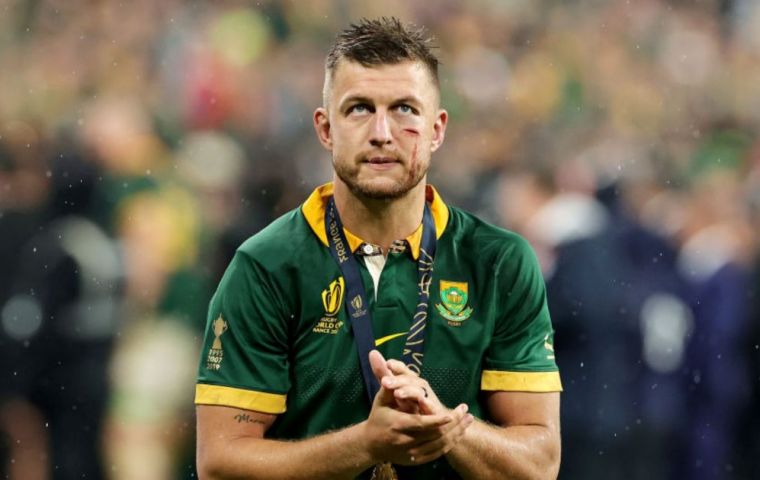 Despite being defending champions, South Africa went into Saturday's Rugby World Cup final against New Zealand at the Stade de France in Paris as underdogs, having last beaten the All Blacks in 1999. However, a cliffhanger 12-11 victory this time around earned the Springboks their fourth trophy, following previous successes in 1995, 2007, and 2019.
Saturday's game was an encore to the 1995 final in Johannesburg when South Africa was emerging from the nightmare of apartheid.
The All Blacks were a man down 27 minutes into the first half when captain Sam Cane was red-carded for a dangerous tackle. In that scenario, Handré Pollard's four penalties were the difference for the Springboks. Ironically, Pollard was called into the team at the last minute before the tournament to replace the injured Malcolm Marx.
The Springboks became the team with the most World Cup titles, surpassing the All Blacks' three. The champions had already beaten France by one point in the quarterfinals and England by one point in the semifinals.
Among those cheering on the winners was retired tennis legend Roger Federer, who donned a Springbok scarf in tribute to his South African mother.
Absent from the 1987 and 1991 tournaments because of its apartheid policies, Nelson Mandela's South Africa made its first World Cup appearance in 1995. They beat New Zealand 15-12 in the final in Johannesburg.
In Japan in 2019, South Africa beat England 32-12 to win the title.