Cruise season kicks off with four Antarctic ships in Montevideo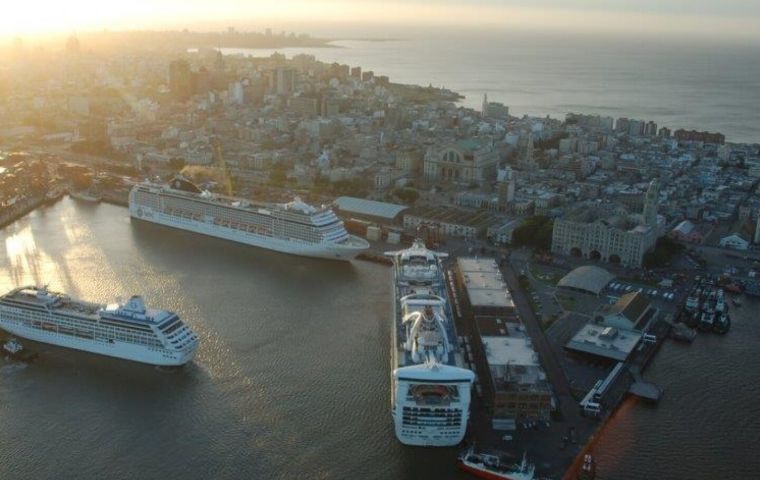 Four Antarctic ships have been reported to be docking in the Uruguayan port of Montevideo as the 2023/2024 cruise season is already underway.
"Four Antarctic cruise ships in the port of Montevideo. They operate for passenger arrivals, crew relief, stores, fuel loading, waste disposal, and repairs. Berths 1 and 2: Ocean Endeavour, World Explorer Berth 5: Ocean Adventurer CMB: SH Vega," posted the National Ports Administration (ANP) on X.
Tourism Minister Tabaré Viera highlighted the occasion because the activity is firmly recovering after being hit hard during the Covid-19 pandemic.
In the 2022-2023 season (which runs from November to April) the number of cruise ships arriving in Uruguay grew by 9% compared to the 2019-2020 season, the last one before the pandemic, it was explained.
This increase was more noticeable in Montevideo than in Punta del Este, Vieira noted.
Meanwhile, a sea lion was found strolling through the Punta Carretas area at around 10 am Monday in the Uruguayan capital. The animal was sedated and transferred to nearby Paso Carrasco where it was released.
This type of animal "ends up resting in some rock formations, between Montevideo and Canelones, that is why they begin to appear on this coast," it was also explained.
"They were always in what is the coast. It is part of their natural habitat. In a few months, in January, they enter the reproductive period. It is a juvenile, this animal does not enter the reproductive stock, then it is always in what is the coast," said an expert quoted by local media.
He added that this type of animal "ends up resting in some rock formations, between Montevideo and Canelones, which is called the Pipa, that's why they start to appear on this coast."
Specialists also admitted the animal's presence triggered concerns about recent cases of avian flu reported in the area. The recommendation is not to approach the animal, both because of the bird flu and because it may feel threatened out of the water, and "it is feasible that it could attack."