Fluminense beat Boca Juniors in extra time for first Libertadores Cup title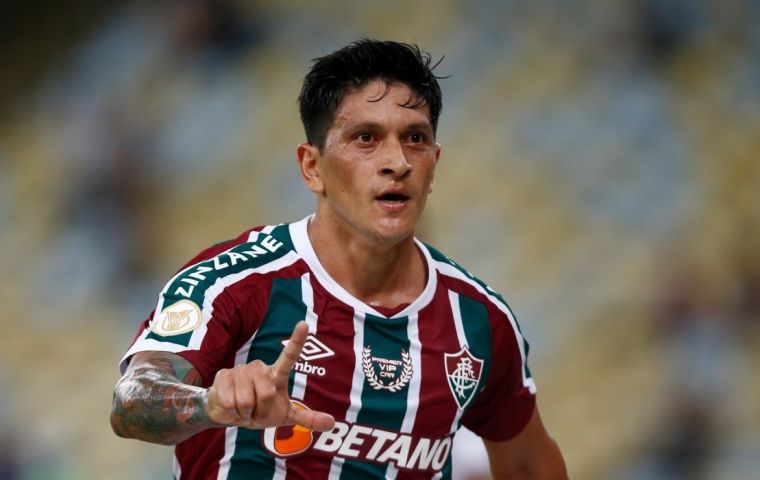 Substitute John Kennedy gave Fluminense a crucial 2-1 win over Argentina's Boca Juniors on Saturday to secure the Rio de Janeiro club's first Libertadores Cup title in a cliffhanger final at the legendary Maracana stadium.
Argentinian-born Germán Cano, who now holds Colombian citizenship, had given the "Flu" the lead after 35 minutes, but Peru international Luis Advíncula equalized for the Buenos Aires side in the 72nd minute to force extra time. Had neither side scored then, the match would have gone to penalties.
Adding to the emotional atmosphere was the fact that Kennedy was sent off for overreacting to his goal. He had been booked earlier in the game and a second yellow card meant dismissal.
But instead of capitalizing on the one-man advantage to try for an equalizer, Frank Fabra - a Colombian-born Argentine national - was shown a straight red card by Colombian referee Wilmar Roldán after slapping a rival in the face during a scuffle near the extra time interval.
With six minutes left in extra time, Fluminense came close to closing up the game when Guga hit the goalpost as former international goalkeeper Sergio Romero (who played in the 2014 final for Argentina at the Maracana) lay helpless on the pitch.
Cano was also the tournament's top scorer and most valuable player.
Saturday's game was preceded by violent clashes between fans of the two teams. (See also: Argentine and Brazilian football fans clash in Rio ahead of Libertadores Cup final).
The single-round final had been scheduled to take place at Rio's Maracana before the tournament began, and the venue was not to be changed even if a team from Rio de Janeiro made it that far, which eventually occurred.